Product Description
Wholesale ISO standard engineering new colored conveyor belts pom plastic roller chain
Advantages:
1.A complete range of specification
2.free design offer OEM & ODM
3.free sample available
4.professional service team
5.specialize CNC machining and injection over 10 years
6.Custom accept as per drawing or sample
POM (Polyformaldehyde)
 
POM (Full-name: Polyformaldehyde), is a engineering plastics of non-side-chain, high density, high crystalline and linear polymer, which is praised "Plastic Steel", and has comprehensive excellent performances, such as: wear-resistance, high hardness, anti-impregnant, good rigidity (Tensile modulus of elasticity), chemical stability, isolation resistance and dimensional stability. POM has widely applied in Automobile industries, electronic and electric products, commodity, pipeline & fittings, exact apparatus and so on, which can be instead of the bronze, Zinc, tin and other metals.
 
Except POM-H, is often copolymerized with ethylene oxide together, in order to avoid the melting of POM material in the high temperature. POM-H has the better performances than POM-C in its high crystalline, mechanical strength and rigidity. And POM-C has the better performances than POM-H in its low melting point, temperature stability, fluxion characteristic and machining capability.
Father more, POM-H+PTFE, which is made from the Delrin POM Resin that maxed Teflon fiber symmetrically, has the low co-efficient of frication, good lubrication, wear-resistance, non-creepage resistance.
 
Automobile industries: POM has a large application in car industries, because the mechanical parts made by POM, which has the advantages of high mechanical strength, high hardness, good wear-resistance, low co-efficient of friction, easy to maintain, reducing cost and so on, can be used in cars instead of coppery half stalk and planet gear. It not only saving copper materials, but also improving service life. At the engine fuel system, components for hose valves and case cover of radiator, cooling fluid's standby case, water valve, oil box' cover, pump impeller, shell of gasification machine and accelerator pedal and so on.
 
Electronic and electric Industries: because of its lower power consuming, high dielectric strength and insulation resistance and electronic arc resistance,  POM has widely applied in electronic and electric Industries, such as: shell of electronic spanner, shell of electronic scissors, shell of coal drilling machine ,handle of switch, parts also for phone, wireless recorder, video tape recorder, television, computer, electrograph, calculagraph, bracket of recorder tape and so on.
 
Agricultural machine: part of manual sprayer, joint and transport part of seeder, parts of milk machine, shell of irrigation and drainage, valve, joint and bush of water and so on.
 
Other field:
Pharmacy & packing Machine: transporting screw, planet gear, gear bar, chain wheel and cushion bar and so on.
Construction industries: water tap, window frame, wash pot, water tank, pulley for portiere, shell of water meter and tie-in of water pipe.
 
Color:White,Black,Natural,Rice Yellow brown and so on.
Size:1000X2000X(Thickness:1-200mm),1220X2440X(Thickness:1-200mm)
600X1200X(Thickness:1-200mm)
 
 
Model                  

inejction POM conveyor chain

Material

POM / Nylon/ PVC or customized

Diameter
1-250mm or customized
Length
500mm,1000mmor customized 
Color
Natural,White,Black,ect.
OEM & ODM
Yes
Certification
ISO9001,SGS,FDA,RoHS,Test Report,ect.
Free Sample
Yes
Density
1.6g/ cm2
Shape
sheet, rod, tube, gear, pulley, guide rail……or according to your demand
Packing
Plastic bags,Cartons,Wodden case,Pallet,Container,ect.
Advantage
One stop procurement
 
Product Photo
 
| | |
| --- | --- |
| Material: | Plastic |
| Structure: | Leaf Chain |
| Surface Treatment: | Polishing |
| Chain Size: | 1/2"*3/32" |
| Feature: | Fire Resistant, Heat Resistant |
| Shape: | Sheet\Board\Rod\Plate\Rod\Bar\Strips\Shaped Parts |
Customization:

Available

|

Customized Request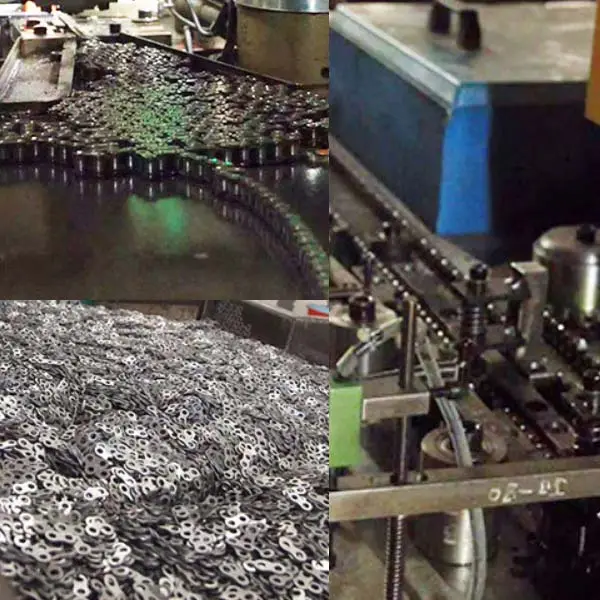 How do engineering chains handle misalignment between sprockets?
Engineering chains are designed to handle some degree of misalignment between sprockets. Misalignment can occur due to various factors such as improper installation, wear and elongation of the chain, or inaccuracies in the machinery. While some misalignment is inevitable in many industrial applications, excessive misalignment should be avoided to ensure optimal chain performance and longevity.
Here's how engineering chains handle misalignment:
Flexible Construction: Engineering chains are constructed with flexible components such as pins, rollers, and bushings. This design allows the chain to adapt to minor misalignments without putting excessive stress on the chain or sprockets.
Articulating Joints: The articulating joints in the chain allow it to articulate smoothly around the sprockets, accommodating minor misalignment during the rotation. This helps reduce wear on the chain and sprockets.
Tolerance for Misalignment: Manufacturers provide specifications for the allowable misalignment between sprockets. Engineering chains are designed to handle a certain level of misalignment within these tolerances without significantly affecting their performance.
Proper Installation: Correct installation of the engineering chain is crucial to minimizing misalignment issues. Ensuring proper tension, alignment, and center-to-center distance between sprockets can help reduce misalignment and prolong chain life.
Regular Maintenance: Regular maintenance, including chain inspection and lubrication, can help identify and address misalignment issues early on. Promptly correcting misalignment can prevent further damage and ensure efficient chain operation.
Alignment Devices: In some cases, alignment devices or tools may be used during installation to ensure accurate alignment between the sprockets. These devices can help improve chain performance and reduce wear caused by misalignment.
It is essential to follow the manufacturer's guidelines for chain installation, maintenance, and alignment to optimize the performance and service life of engineering chains. Addressing misalignment issues promptly and keeping the chain in proper working condition will contribute to the overall reliability and efficiency of the machinery or equipment in which the chain is used.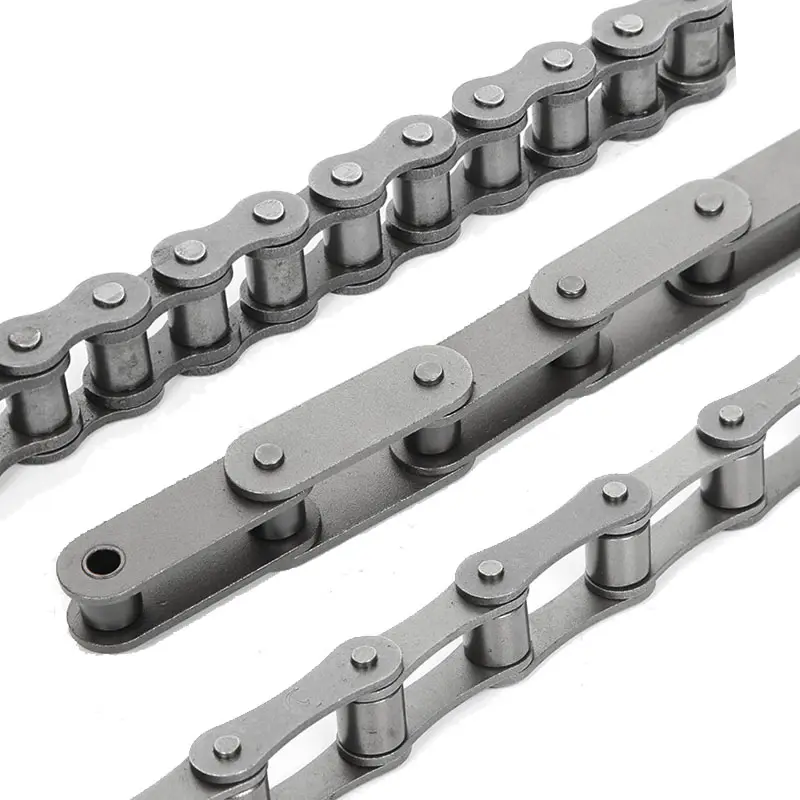 How do engineering chains handle angular misalignment between sprockets?
Engineering chains are designed to handle a certain degree of angular misalignment between sprockets. Angular misalignment occurs when the rotational axes of the driving and driven sprockets are not perfectly parallel, leading to an angle between them. While it is essential to minimize misalignment to prevent excessive wear and premature failure, some level of misalignment tolerance is built into engineering chains to accommodate real-world installation variations.
When angular misalignment exists, the chain's side plates and rollers are designed to articulate and adjust to the varying angles between the sprockets. This flexibility allows the chain to smoothly engage and disengage from the sprocket teeth without binding or jamming. However, it's important to note that excessive misalignment can still cause accelerated wear, noise, and reduced efficiency in the chain drive system.
To ensure optimal performance and longevity, it is recommended to keep angular misalignment within the manufacturer's specified limits. These limits can vary depending on the chain size, type, and application. When installing an engineering chain, it's crucial to align the sprockets as accurately as possible and use alignment tools if necessary.
In applications where angular misalignment is unavoidable, special chain types or accessories, such as chain tensioners or idler sprockets, can be used to help compensate for the misalignment and improve overall system performance.
In summary, engineering chains are designed to handle a certain degree of angular misalignment between sprockets, but it is essential to follow the manufacturer's guidelines and maintain proper alignment to ensure reliable and efficient operation of the chain drive system.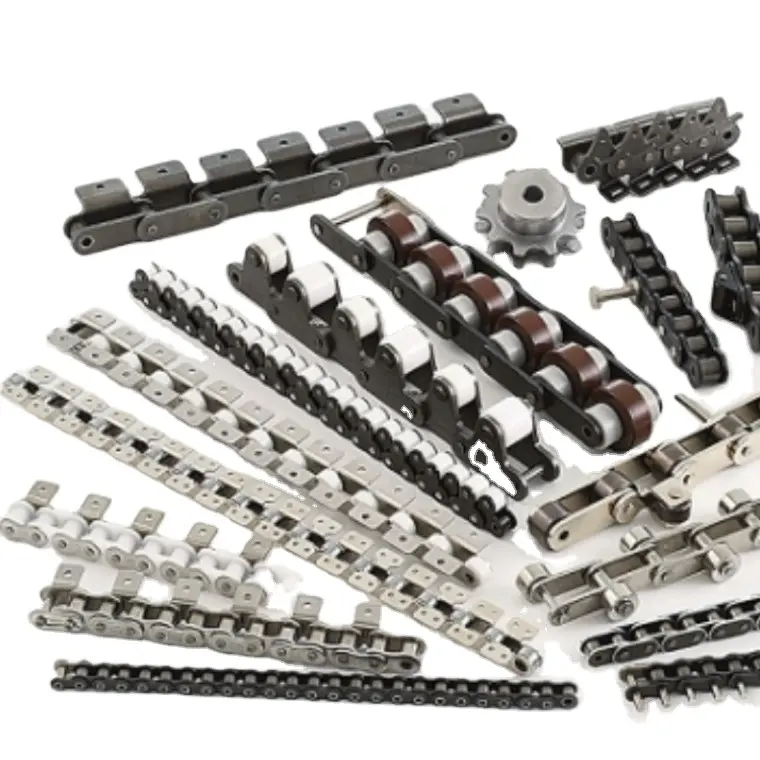 How do you select the right size and pitch for an engineering chain?
Choosing the correct size and pitch for an engineering chain is essential to ensure optimal performance, longevity, and safety in industrial applications. Here are the steps to guide you in selecting the right engineering chain size and pitch:
1. Identify the Application Requirements: Understand the specific requirements of the application where the engineering chain will be used. Consider factors such as the load to be carried, the speed of operation, the environmental conditions, and any special considerations like corrosion resistance or high-temperature requirements.
2. Determine the Chain Type: Engineering chains come in various types, such as roller chains, conveyor chains, drive chains, and specialty chains. Choose the chain type that best matches the intended application and the type of motion required.
3. Calculate the Chain Pitch: The chain pitch refers to the distance between each roller pin or attachment point on the chain. To calculate the chain pitch, measure the center-to-center distance of any three consecutive pins and divide it by two. Ensure that the calculated pitch matches the chain's specified pitch.
4. Calculate the Chain Length: Determine the required length of the engineering chain by considering the distance between the sprockets and any additional slack or tension needed for smooth operation. Ensure that the selected chain length is appropriate for the application and fits well without being overly tight or loose.
5. Check Load Capacity and Strength: Refer to the manufacturer's data or engineering chain catalog to determine the load capacity and strength of the selected chain. Ensure that the chain's load capacity exceeds the maximum loads expected in the application to prevent premature wear or failure.
6. Consider the Environmental Factors: Take into account any environmental factors that may affect the performance of the engineering chain, such as temperature, moisture, chemicals, or abrasive materials. Choose a chain material that can withstand the specific environmental conditions to ensure longevity.
7. Consult with Manufacturers or Suppliers: If you are uncertain about selecting the right engineering chain, do not hesitate to consult with chain manufacturers or suppliers. They can provide valuable insights and recommendations based on their expertise and knowledge of various applications.
By following these steps and carefully evaluating the application's requirements, you can select the appropriate size and pitch for an engineering chain, ensuring reliable and efficient operation in your specific industrial setting.



editor by CX 2023-07-28