Product Description
Wholesale ISO standard engineering new colored conveyor belts pom plastic roller chain
Advantages:
1.A complete range of specification
2.free design offer OEM & ODM
3.free sample available
4.professional service team
5.specialize CNC machining and injection over 10 years
6.Custom accept as per drawing or sample
POM (Polyformaldehyde)
 
POM (Full-name: Polyformaldehyde), is a engineering plastics of non-side-chain, high density, high crystalline and linear polymer, which is praised "Plastic Steel", and has comprehensive excellent performances, such as: wear-resistance, high hardness, anti-impregnant, good rigidity (Tensile modulus of elasticity), chemical stability, isolation resistance and dimensional stability. POM has widely applied in Automobile industries, electronic and electric products, commodity, pipeline & fittings, exact apparatus and so on, which can be instead of the bronze, Zinc, tin and other metals.
 
Except POM-H, is often copolymerized with ethylene oxide together, in order to avoid the melting of POM material in the high temperature. POM-H has the better performances than POM-C in its high crystalline, mechanical strength and rigidity. And POM-C has the better performances than POM-H in its low melting point, temperature stability, fluxion characteristic and machining capability.
Father more, POM-H+PTFE, which is made from the Delrin POM Resin that maxed Teflon fiber symmetrically, has the low co-efficient of frication, good lubrication, wear-resistance, non-creepage resistance.
 
Automobile industries: POM has a large application in car industries, because the mechanical parts made by POM, which has the advantages of high mechanical strength, high hardness, good wear-resistance, low co-efficient of friction, easy to maintain, reducing cost and so on, can be used in cars instead of coppery half stalk and planet gear. It not only saving copper materials, but also improving service life. At the engine fuel system, components for hose valves and case cover of radiator, cooling fluid's standby case, water valve, oil box' cover, pump impeller, shell of gasification machine and accelerator pedal and so on.
 
Electronic and electric Industries: because of its lower power consuming, high dielectric strength and insulation resistance and electronic arc resistance,  POM has widely applied in electronic and electric Industries, such as: shell of electronic spanner, shell of electronic scissors, shell of coal drilling machine ,handle of switch, parts also for phone, wireless recorder, video tape recorder, television, computer, electrograph, calculagraph, bracket of recorder tape and so on.
 
Agricultural machine: part of manual sprayer, joint and transport part of seeder, parts of milk machine, shell of irrigation and drainage, valve, joint and bush of water and so on.
 
Other field:
Pharmacy & packing Machine: transporting screw, planet gear, gear bar, chain wheel and cushion bar and so on.
Construction industries: water tap, window frame, wash pot, water tank, pulley for portiere, shell of water meter and tie-in of water pipe.
 
Color:White,Black,Natural,Rice Yellow brown and so on.
Size:1000X2000X(Thickness:1-200mm),1220X2440X(Thickness:1-200mm)
600X1200X(Thickness:1-200mm)
 
 
Model                  

inejction POM conveyor chain

Material

POM / Nylon/ PVC or customized

Diameter
1-250mm or customized
Length
500mm,1000mmor customized 
Color
Natural,White,Black,ect.
OEM & ODM
Yes
Certification
ISO9001,SGS,FDA,RoHS,Test Report,ect.
Free Sample
Yes
Density
1.6g/ cm2
Shape
sheet, rod, tube, gear, pulley, guide rail……or according to your demand
Packing
Plastic bags,Cartons,Wodden case,Pallet,Container,ect.
Advantage
One stop procurement
 
Product Photo
 
| | |
| --- | --- |
| Material: | Plastic |
| Structure: | Leaf Chain |
| Surface Treatment: | Polishing |
| Chain Size: | 1/2"*3/32" |
| Feature: | Fire Resistant, Heat Resistant |
| Certificate: | ISO9001: 2008, Test Report |
Customization:

Available

|

Customized Request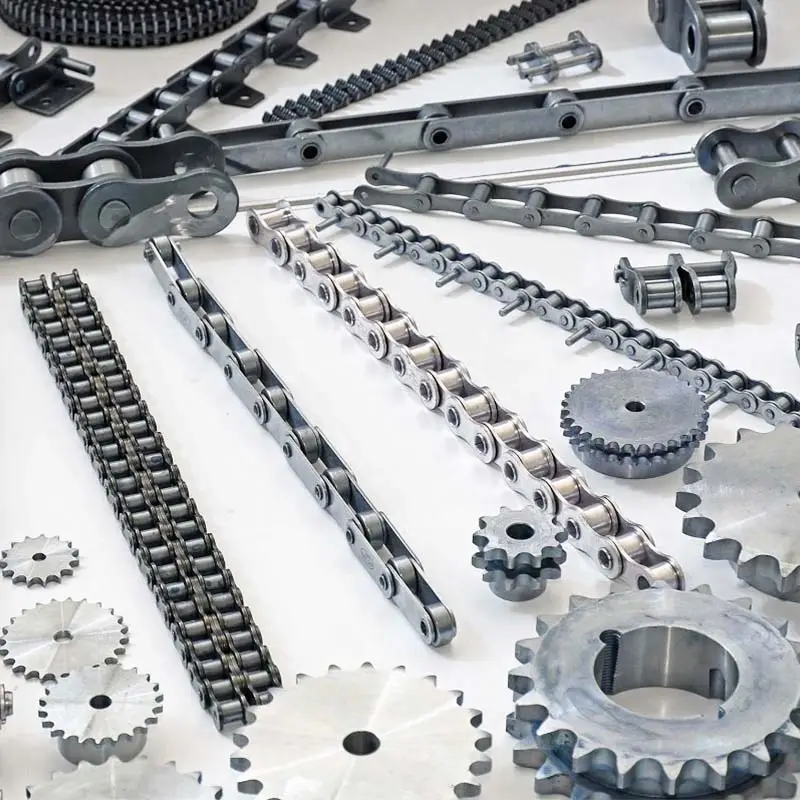 What are the noise and vibration characteristics of engineering chains?
Engineering chains, like other types of roller chains, can produce noise and vibrations during their operation. The noise and vibration characteristics of engineering chains depend on several factors:
Lubrication: Proper lubrication of the chain can help reduce friction between the chain's components, leading to smoother operation and lower noise levels.
Chain Condition: A well-maintained chain with proper tension and minimal wear is likely to produce less noise and vibration compared to a worn or damaged chain.
Alignment: Proper alignment of the sprockets and the chain is essential to minimize lateral forces, which can contribute to increased noise and vibration.
Load and Speed: Heavier loads and higher speeds can increase the dynamic forces within the chain, leading to more pronounced noise and vibration.
Environmental Factors: External factors, such as temperature, humidity, and contaminants, can influence the chain's noise and vibration characteristics.
Chain noise and vibration can be managed through various measures:
Chain Design: Some chains are designed with noise reduction features, such as special profile plates or noise-dampening materials.
Lubrication: Using high-quality and appropriate lubricants can help reduce friction and noise.
Tensioning: Properly tensioned chains experience less vibration and are less likely to produce noise.
Maintenance: Regular inspection and maintenance can identify and address any issues that may contribute to increased noise and vibration.
Isolation: In some applications, adding vibration isolators or dampeners can help reduce the transmission of noise and vibrations to surrounding structures.
It's important to consider the specific requirements of the application and consult with chain manufacturers or experts to select the most suitable engineering chain and implement noise and vibration mitigation strategies when necessary.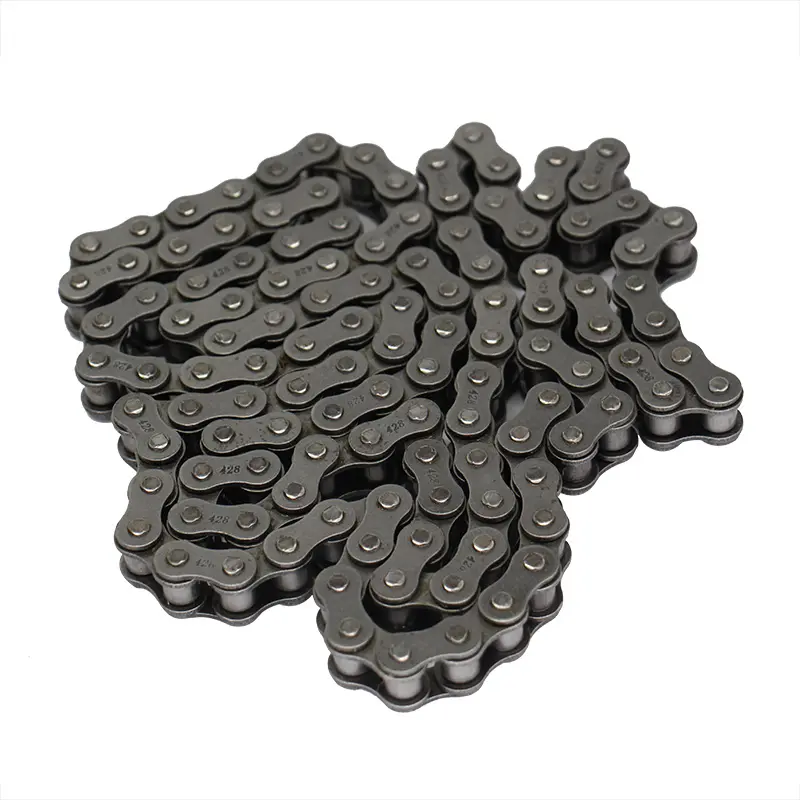 How do engineering chains perform in dusty or dirty environments?
In dusty or dirty environments, engineering chains face unique challenges due to the presence of contaminants that can affect their performance and longevity. However, many engineering chains are designed to handle such harsh conditions, and their performance can be enhanced with proper maintenance and considerations.
1. Sealing and Protection: Some engineering chains come with specialized seals or protective coatings to prevent dust, dirt, and other contaminants from entering the chain's internal components. These seals help maintain the integrity of the lubrication and reduce the risk of abrasive particles causing wear.
2. Lubrication: Proper and regular lubrication is essential for engineering chains operating in dusty environments. Lubrication helps reduce friction and wear, flushing out contaminants that may have entered the chain. It's crucial to use lubricants suitable for dusty conditions to prevent excessive buildup of dirt and debris.
3. Cleaning and Maintenance: Regular cleaning and maintenance are crucial to keep the chain functioning optimally in dirty environments. Removing accumulated dirt and debris helps prevent abrasive wear and elongation of the chain.
4. Material Selection: Choosing the right materials for the chain is vital for dusty environments. Chains with corrosion-resistant coatings or made from stainless steel can better withstand the abrasive nature of dust and dirt.
5. Chain Design: The design of the engineering chain can also influence its performance in dusty environments. Some chains have self-cleaning features or specific geometry that helps shed dirt and debris during operation.
6. Regular Inspection: Regular visual inspection of the chain can help identify signs of wear and contamination early on, allowing for timely maintenance or replacement.
7. Environmental Considerations: Understanding the specific conditions of the dusty environment is essential for selecting the most suitable engineering chain. Factors such as temperature, humidity, and the type of contaminants present should be taken into account.
8. Ingress Protection (IP) Rating: In certain industries, such as food processing or pharmaceuticals, engineering chains with specific IP ratings may be required to ensure compliance with hygiene and cleanliness standards.
In conclusion, engineering chains can perform well in dusty or dirty environments if properly selected, installed, and maintained. Regular cleaning, lubrication, and inspection are essential to ensure optimal performance and extend the chain's service life in such challenging conditions.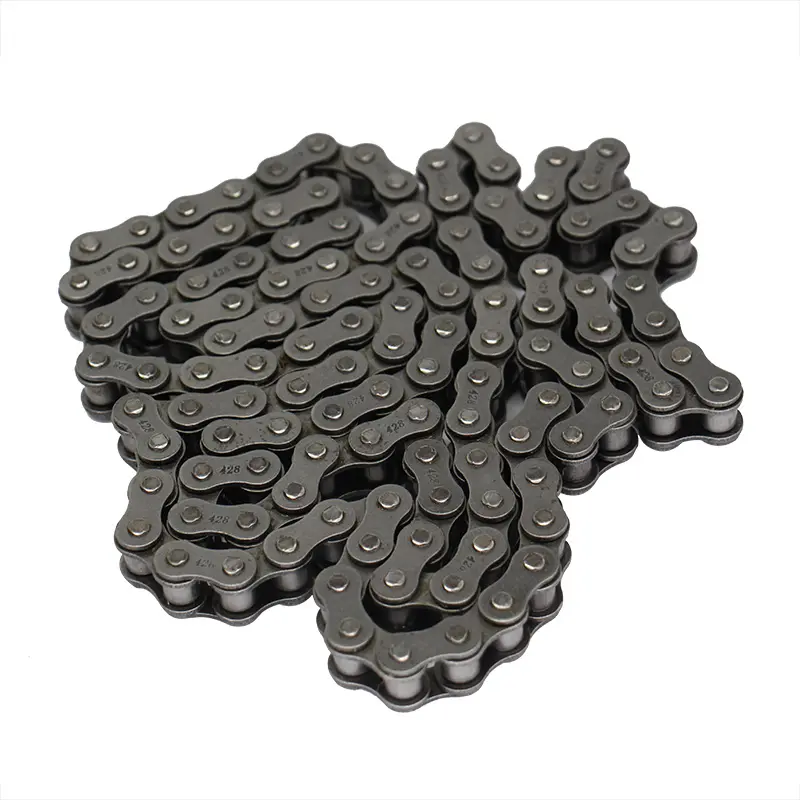 Can engineering chains be used in corrosive or harsh environments?
Yes, engineering chains can be designed and manufactured to withstand corrosive or harsh environments. When operating in such conditions, it is crucial to select the appropriate materials and coatings for the chain to ensure its durability and performance. Here are some considerations for using engineering chains in corrosive or harsh environments:
1. Material Selection: Choose materials that have high corrosion resistance, such as stainless steel or nickel-plated chains. These materials can withstand exposure to moisture, chemicals, and other corrosive agents.
2. Coatings and Surface Treatments: Applying specialized coatings or surface treatments to the chain can further enhance its corrosion resistance. Common coatings include zinc plating, chromate conversion coating, and polymer coatings.
3. Sealed Joints: Opt for engineering chains with sealed joints or special seals to protect the internal components from contaminants and moisture, reducing the risk of corrosion.
4. Environmental Ratings: Some engineering chains may come with specific environmental ratings that indicate their suitability for certain conditions. Check these ratings to ensure the chain is appropriate for the intended environment.
5. Regular Maintenance: Even with corrosion-resistant materials and coatings, regular maintenance is essential. Keep the chain clean, lubricated, and free from debris to prevent corrosion and premature wear.
6. Compatibility with Other Components: Ensure that all components in the chain system, such as sprockets and bearings, are also suitable for use in corrosive environments.
7. Temperature Considerations: Take into account the operating temperature range of the environment. Some materials may perform differently at extreme temperatures, affecting the chain's overall performance.
8. Chemical Exposure: If the chain will be exposed to specific chemicals or substances, verify that the chosen materials and coatings are resistant to those chemicals.
By carefully selecting the right materials, coatings, and design features, engineering chains can effectively handle corrosive or harsh environments, maintaining their functionality and longevity in challenging industrial applications.



editor by CX 2023-09-04