Product Description
Product Description
1.Material:reinforced nylon. It can stand with high pressure and has good tensile strength,toughness and elasticity ,wearing and falmable resisance.2.Resistances:It is oil and acceleration is 5m/sec.(specfic speed and acceleration depends on specific).3.Service life:Under normal conmal condition,5 million reciprocating motions can be reached(which is also related to the operating conditions.)
Technical data:
Tensile strength

180N/mm2
Volume resistance
1571-1015
Impact strength
50Kj/m2
Water Absorption
4%
Tenprature range
-40.C-130.C
Friction factor
0.3
Surface resistaned
1571-1012
Falme resistance
HB(UL49)
 
Details
Application
 
The Engineering Plastic Roller Chain Cable Drag Chain has been widely used in CNC machine tools, electronic equipment, stone machinery, glass machinery, doors and windows machines, injection molding machines, mechanical hands, overweight transportation equipment, automated warehouses.
Installation 
1.Put a screw driver vertically into the opening hole at both ends of the cover and then open the cover .Put the drag chain for cables and oip pipes according to the instructions provided .Put the cover back.Note that the fixed end and the moving end of a cable should be fixed by using a tension device
2.When used in a long sliding service,it is recommended to use a guiding grove,Please ask our technical personnel about the usage of the guiding grove.
Order notice :
 
Kindly please advise the below:
1. Length: 
2. Cable or pipe Max. Dia.:
3. Supporting board type:
4. Bending Radius(or the curved height ):
 
Company Profile
ZheJiang CZPT Conductor Busbar Electrical Co.,Ltd. Is located in ZheJiang ,Established in 2001 and have been involved in this field for more than 10 years.CZPT is professional enterprise in searching and developing the electrical products and engineering.The main products includes:conductor rail system .bus duct system,cable festoon system ,cable drag chain cable tray,lighting busbar and related accessories, our products used in mobile power supply for crane ,electrical hoist .as well as factory,high building power distribution.With excellent products quality ,good service our products are greatly favored bycustomers around the domestic and foreign market, we will devote ourselves to provide better service for the whole world customer.
Packaging & Shipping
Welcome to inquiry ~
| | |
| --- | --- |
| Surface Treatment: | Polishing |
| Material: | Plastic |
| Bending Radius: | 50mm-750mm |
| Max.Width(mm): | 200mm-650mm |
| Feature: | Fire Resistant, Oil Resistant, Heat Resistant |
| Pitch: | 45mm-180mm |
Customization:

Available

|

Customized Request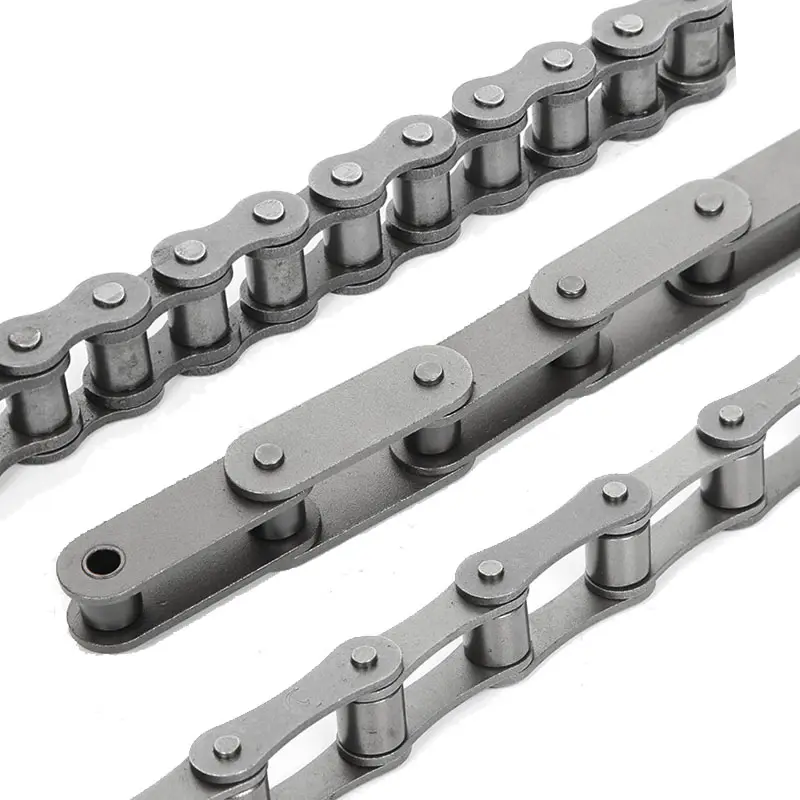 How do engineering chains compare to other types of chains in terms of efficiency?
Engineering chains are known for their high efficiency in power transmission compared to some other types of chains. Their efficiency can be attributed to several factors:
Minimal Friction: Engineering chains are designed with precision rollers and bushings, which reduces friction between the chain's components. This results in less energy loss during power transmission.
High-Quality Materials: These chains are typically made from high-quality materials, such as alloy steel, which ensures durability and minimal elongation under heavy loads. This material choice helps maintain efficiency over extended periods of use.
Precise Manufacturing: Engineering chains are manufactured with tight tolerances and precise engineering, ensuring consistent performance and smooth operation. This precision minimizes energy losses due to chain misalignment or uneven loading.
Optimized Design: The design of engineering chains takes into account the specific requirements of power transmission, making them well-suited for their intended applications. This optimized design contributes to their overall efficiency.
Proper Lubrication: Regular and proper lubrication of engineering chains is essential to maintain their efficiency. Adequate lubrication reduces friction and wear, optimizing power transfer efficiency.
Compared to some other types of chains, such as standard roller chains, engineering chains may offer higher efficiency due to their advanced design and manufacturing processes. However, the choice of chain type depends on the specific application requirements, load conditions, operating environment, and other factors.
In certain applications, other power transmission methods like belts or gears might be preferred over chains, based on factors such as noise level, space constraints, and maintenance considerations. Each power transmission method has its advantages and limitations, and selecting the most suitable option requires careful consideration of the application's needs.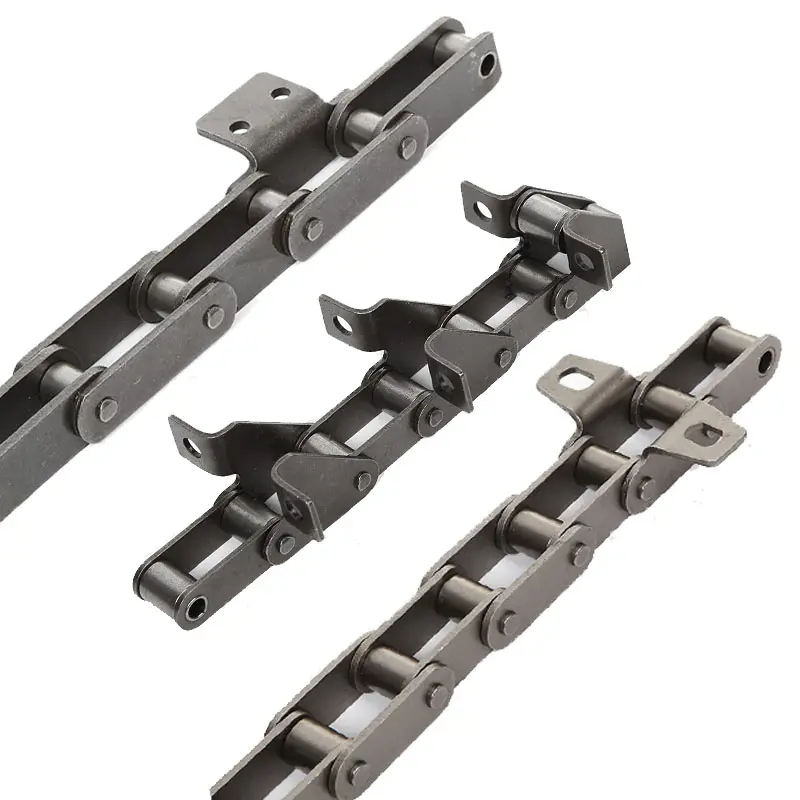 Can engineering chains be used for power transmission in conveyor systems?
Yes, engineering chains are commonly used for power transmission in conveyor systems. Conveyor systems are widely employed in various industries for material handling, and they require reliable and efficient power transmission methods to move heavy loads over long distances. Engineering chains are well-suited for these applications due to their robust construction, high load-carrying capacity, and versatility.
Conveyor systems often consist of a series of sprockets and a continuous loop of engineering chain that runs over these sprockets. The chain is driven by a motorized sprocket, and as it moves, it carries the conveyed material along the conveyor's length. The design of engineering chains ensures smooth engagement with the sprockets, enabling efficient power transmission and precise material handling.
Depending on the specific requirements of the conveyor system, various types of engineering chains can be used. For instance, for applications where cleanliness is crucial, stainless steel chains with self-lubricating properties may be employed. In environments with high corrosion potential, corrosion-resistant coatings on chain components can extend the chain's lifespan.
Furthermore, engineering chains can be customized to fit different conveyor configurations, allowing for the design of complex conveyor systems that suit specific production processes or spatial limitations.
In summary, engineering chains are an excellent choice for power transmission in conveyor systems due to their durability, load capacity, and adaptability. They ensure smooth and reliable operation, making them indispensable in material handling and conveyor applications across various industries.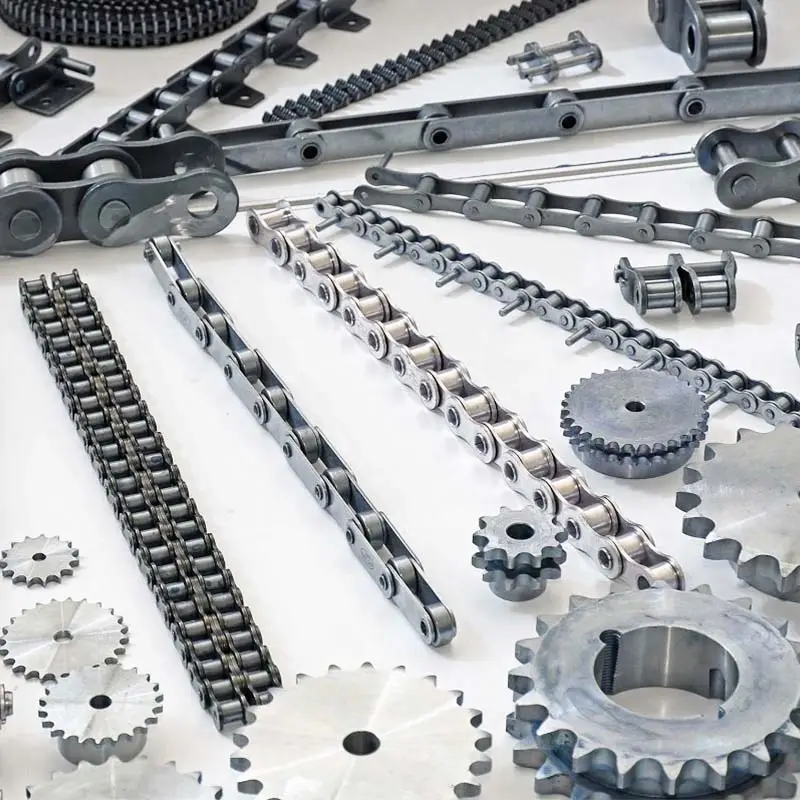 What are the different types of engineering chains available in the market?
Engineering chains come in various types, each designed to meet specific industrial needs and operating conditions. Here are some of the common types of engineering chains available in the market:
Roller Chains: Roller chains are the most common type of engineering chain and consist of cylindrical rollers that engage with the sprocket teeth for smooth power transmission. They are widely used in industries like manufacturing, agriculture, and automotive.
Drag Chains: Drag chains, also known as conveyor chains or slat chains, have flat, interlocking plates connected together. They are used in conveyor systems for material handling applications, especially in heavy-duty and abrasive environments.
Hollow Pin Chains: Hollow pin chains feature hollow pins that allow for the insertion of cross rods or attachments, making them versatile for handling irregularly shaped loads or for use as a conveyor in specific industries.
Double Pitch Chains: Double pitch chains have larger pitch distances between the links, resulting in lighter weight and lower cost. They are commonly used in low-speed and light-load applications.
Leaf Chains: Leaf chains, also known as forklift chains, are used in lifting applications, such as forklift trucks and other material handling equipment.
Side Bow Chains: Side bow chains have links with a curved or bent shape, allowing them to flex and bend laterally, making them suitable for curved or circular conveyor applications.
Apron Chains: Apron chains are used in apron conveyors, typically found in the mining and cement industries, for transporting heavy and abrasive materials.
Specialty Chains: There are various specialty chains available for specific industries and applications, such as escalator chains, agricultural chains, bottle conveyor chains, and more.
Each type of engineering chain has its own unique design and features to cater to specific requirements. The choice of chain type depends on factors like load capacity, speed, environmental conditions, and the application's needs. It's essential to select the appropriate chain type and ensure proper maintenance to achieve optimal performance and longevity in industrial operations.



editor by CX 2023-08-08