Product Description
Product Description
Roller chain on various machine equipment, welded steel mill chain, welded steel drag chain, cast fixed pin chain, pintle chain, drop forged link chain and Engineer Class Driving Chain, with alloy steel and stainless steel selection according to your requirement
1, Chain types: agricultural chain, drop forged rivetless chain, Roller Chain, conveyor chain, sugar industry chain, palm oil industry chain, asphalt industry chain,elevator conveyor industry chain, double flex chain, pintle chain, weld steel drag chains, malleable chain etc;
2, Main materials: It is 40Mn. 40Cr, 45Mn alloy steel or SUS304 for plates, 10#, 20#, 20CrMnMo, 30CrMnTi for pins and rollers;
3, Heat treatment: Carburizing, Austemper Stressing, nitro-caburizing harden etc;
4, Surface: Shot peening, black, blue or original;
5, Package way: Plastic bag+ carton box+ plywood case
Detailed Photos
Product Parameters
Packaging & Shipping
1. Inner packing: Poly bag, air bubble bag, carton according to buyer's request.
2. Outer packing: OSB case or pallet.
3. Please remember to leave the correct contact ADDRESS information for delivery.
Our Advantages
Company Profile
We are a leading manufacturer of mechanical transmission spare parts, as well as several years 1 of reliable and trustworthy vendors. Our main items are roller chain, conveyor chain, agricultural chain, sugar industry chain, palm oil industry chain, asphalt industry chain,elevator conveyor industry chain etc.
At present, For South American, European, and Asian market, our superior products are fabricated according to your requirement and our quality meets ISO, ASME, DIN standard.
Please watch our process steps as below
(1) punch its outer plate and inner plates
(2)Shot peening workshop
(3) heat treatment workshop
(4) assembly preparation
(5) pins process
(6) Tensile Properties Test before shipment
After Sales Service
Our products can be repaired or replaced the new parts with free cost in 3 months.
FAQ
Question:
1.Q:How about mould cost?
A: primarily depend on : 1.Drawing, 2.material, 3.weight and quantity.
We need to know the structure of each parts to analyze the mold solution by:
1) –Complete design drawing, product model or actual sample —– the best way
–PDF drawing with complete dimension for each parts
–Clearly photos for each parts with more angle-views to show every features.
2)The materials, technical parameters and surface treatments.
technical parameters: tell us about its model, pitch, roller diameter, width between inner plates, attachment type, outside drawing etc.
3)The quantity of order.
2.Q:How to control the product processing?
A: The processing report or pictures will be sent to the customer every week/ each month for review.
3.Q:Who will own the mould?
A:Customer, also the mould can be kept in our factory for future order.
4.Q:How long do you make your quotation?
A:After receiving detail informations we will quote in 1 to 3 days.
5.Q: MOQ? —
small chain type: if its pitch is less than 38.10mm and its thickness is less than 5mm, MOQ is 1500 CZPT on these roller chains or conveyor chains;
middle chain type: MOQ is 1000 CZPT on these roller chains or conveyor chains;
big chain type: if its pitch is more than 76.20mm and its thickness is more than 10mm, MOQ is 200 CZPT on these roller chains or conveyor chains;
I hope we can do business together, and look CZPT to hearing from you soon
 
| | |
| --- | --- |
| Standard or Nonstandard: | Standard |
| Application: | Conveyer Equipment, Packaging Machinery, Food Machinery, Mining Equipment, Agricultural Machinery |
| Surface Treatment: | Shot Peening |
| Structure: | Roller Chain |
| Material: | Alloy Steel |
| Type: | Short Pitch Chain |
Samples:

US$ 7.6/Meter

1 Meter(Min.Order)

|
Request Sample
Customization:

Available

|

Customized Request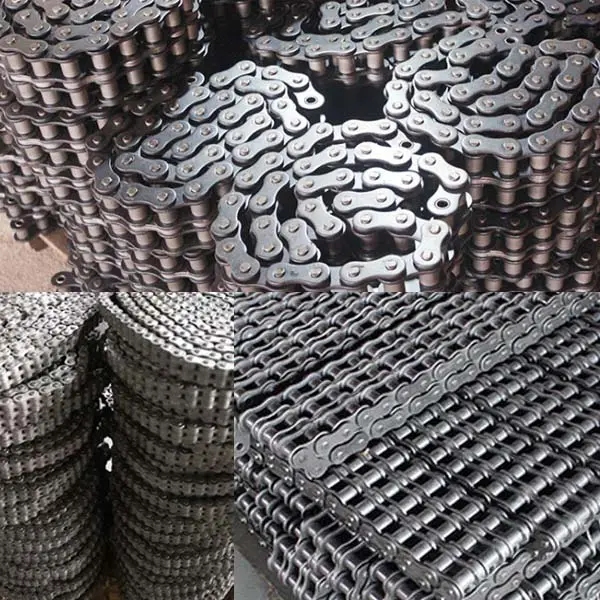 Can engineering chains be repaired or must they be completely replaced?
Unlike some other components, engineering chains are generally not designed to be repaired. Once an engineering chain shows signs of wear, damage, or elongation, it is recommended to replace the entire chain rather than attempting repairs. Here are the reasons why engineering chains are typically replaced instead of repaired:
1. Safety Concerns: Engineering chains are critical components in industrial applications, often responsible for transmitting high loads and operating at high speeds. If a chain fails due to a repair that was not performed correctly, it can lead to serious safety hazards and potential accidents.
2. Complex Design: Engineering chains have a complex design with various components, including pins, rollers, bushings, and plates. Repairing these components and restoring them to their original specifications is difficult and may not guarantee the same level of performance and reliability as a new chain.
3. Cost-Effectiveness: In many cases, repairing an engineering chain can be more costly and time-consuming than simply replacing it. Additionally, a repaired chain may have a shorter service life, leading to more frequent replacements in the future.
4. System Integrity: Engineering chains work as part of a larger system, engaging with sprockets and other components. If a repaired chain does not fit perfectly within the system, it can cause misalignment, premature wear, and reduced performance.
5. Manufacturer Recommendations: Chain manufacturers usually recommend replacing the entire chain when it shows signs of wear or elongation. Following these recommendations ensures that the system operates as intended and maintains its reliability.
Considering the critical role of engineering chains in various industrial applications, it is best to prioritize safety, reliability, and system performance by replacing worn or damaged chains with new ones. Regular maintenance, proper lubrication, and timely replacements will help extend the service life of the engineering chains and contribute to the overall efficiency of the machinery and equipment.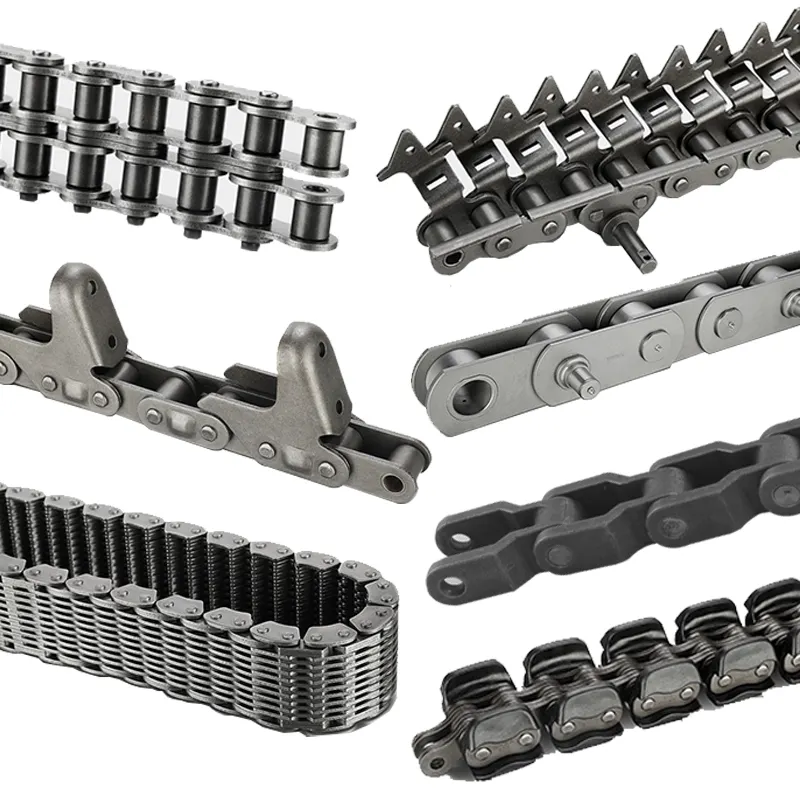 Can engineering chains be used in vertical lifting applications?
Yes, engineering chains can be used in vertical lifting applications, and they are commonly employed in various industries for this purpose. Vertical lifting applications require a reliable and robust power transmission solution, and engineering chains are well-suited to meet these demands.
1. High Load Capacity: Engineering chains are designed to handle heavy loads, making them suitable for vertical lifting applications where substantial weights need to be lifted and moved.
2. Safety Features: Many engineering chains used in lifting applications are designed with safety features, such as chain guides or guards, to prevent the chain from derailing or jumping off the sprockets during operation.
3. Controlled Motion: Engineering chains offer precise control over the lifting motion, which is crucial for vertical lifting tasks that require accuracy and stability.
4. Reliability: In vertical lifting applications, the chain must operate consistently and reliably to ensure the safety of workers and equipment. Engineering chains are known for their durability and long service life, making them a dependable choice for such critical tasks.
5. Customization: Engineering chains can be customized to fit specific vertical lifting applications. Different chain types, sizes, and attachments can be chosen to optimize performance and efficiency for a particular lifting task.
6. Lubrication: Proper lubrication is essential for engineering chains used in vertical lifting applications to minimize friction and wear, ensuring smooth and efficient operation.
7. Compliance: Depending on the industry and application, engineering chains may need to comply with specific safety standards and regulations, such as ISO or ANSI standards.
Overall, engineering chains are a reliable and versatile option for vertical lifting applications, providing the necessary strength, control, and safety required for lifting heavy loads with precision and efficiency.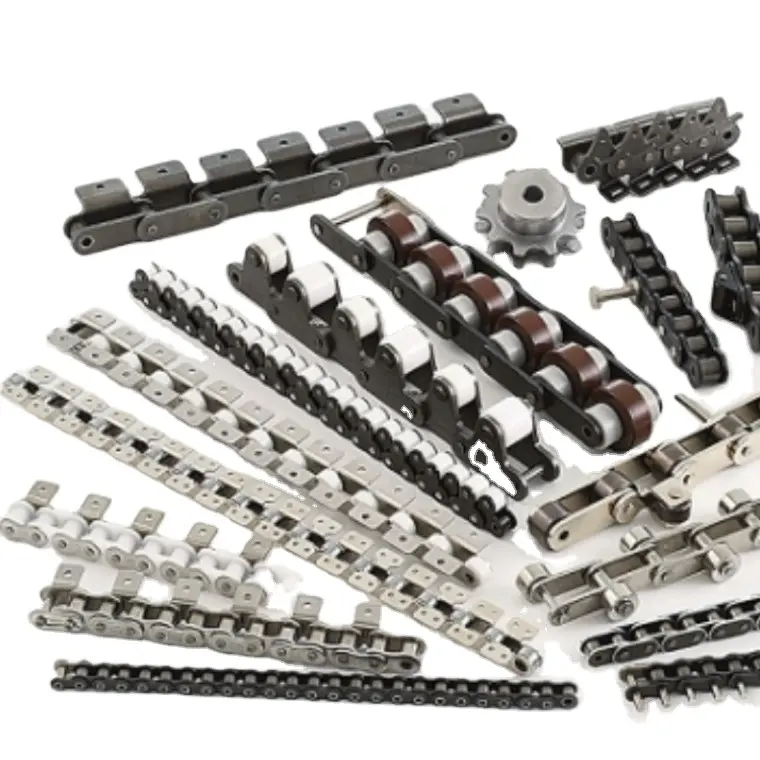 How do you select the right size and pitch for an engineering chain?
Choosing the correct size and pitch for an engineering chain is essential to ensure optimal performance, longevity, and safety in industrial applications. Here are the steps to guide you in selecting the right engineering chain size and pitch:
1. Identify the Application Requirements: Understand the specific requirements of the application where the engineering chain will be used. Consider factors such as the load to be carried, the speed of operation, the environmental conditions, and any special considerations like corrosion resistance or high-temperature requirements.
2. Determine the Chain Type: Engineering chains come in various types, such as roller chains, conveyor chains, drive chains, and specialty chains. Choose the chain type that best matches the intended application and the type of motion required.
3. Calculate the Chain Pitch: The chain pitch refers to the distance between each roller pin or attachment point on the chain. To calculate the chain pitch, measure the center-to-center distance of any three consecutive pins and divide it by two. Ensure that the calculated pitch matches the chain's specified pitch.
4. Calculate the Chain Length: Determine the required length of the engineering chain by considering the distance between the sprockets and any additional slack or tension needed for smooth operation. Ensure that the selected chain length is appropriate for the application and fits well without being overly tight or loose.
5. Check Load Capacity and Strength: Refer to the manufacturer's data or engineering chain catalog to determine the load capacity and strength of the selected chain. Ensure that the chain's load capacity exceeds the maximum loads expected in the application to prevent premature wear or failure.
6. Consider the Environmental Factors: Take into account any environmental factors that may affect the performance of the engineering chain, such as temperature, moisture, chemicals, or abrasive materials. Choose a chain material that can withstand the specific environmental conditions to ensure longevity.
7. Consult with Manufacturers or Suppliers: If you are uncertain about selecting the right engineering chain, do not hesitate to consult with chain manufacturers or suppliers. They can provide valuable insights and recommendations based on their expertise and knowledge of various applications.
By following these steps and carefully evaluating the application's requirements, you can select the appropriate size and pitch for an engineering chain, ensuring reliable and efficient operation in your specific industrial setting.



editor by CX 2023-08-03