Product Description

engineering plastic cable chain POM chain delrin chain
Advantages:
1.A complete range of specification
2.free design offer OEM & ODM
3.free sample available
4.professional service team
5.specialize CNC machining and injection over 10 years
6.Custom accept as per drawing or sample
Model                  

inejction POM conveyor chain

Material

POM / Nylon/ PVC or customized

Diameter
1-250mm or customized
Length
500mm,1000mmor customized 
Color
Natural,White,Black,ect.
OEM & ODM
Yes
Certification
ISO9001,SGS,FDA,RoHS,Test Report,ect.
Free Sample
Yes
Density
1.6g/ cm2
Shape
sheet, rod, tube, gear, pulley, guide rail……or according to your demand
Packing
Plastic bags,Cartons,Wodden case,Pallet,Container,ect.
Advantage
One stop procurement
 
HangZhou Engineering Plastics Industries,aiming at providing engineering plastics and injection plastic parts. Ccompany owns whole sets of imported manufacturing machines and advanced CNC machining machines,besides advanced process tools,company technology are also tremendous.
FAQ
Q: Are you trading company or manufacturer ?
A: We are manufacturer.
Q: How long is your delivery time?
A: According to the difficulty and quantity of product processing,a reasonable arrival time will be given to you.
Q: Do you provide samples ? is it free or extra ?
A: Yes, we could offer the sample for free charge but do not pay the cost of freight.
Q: What are the after-sale services?
A: In case of quality problems, the package can be exchanged within 90 days.
| | |
| --- | --- |
| Material: | Plastic |
| Structure: | Leaf Chain |
| Surface Treatment: | Polishing |
| Chain Size: | 1/2"*3/32" |
| Feature: | Fire Resistant, Heat Resistant |
| Certificate: | ISO9001: 2008, Test Report |
Customization:

Available

|

Customized Request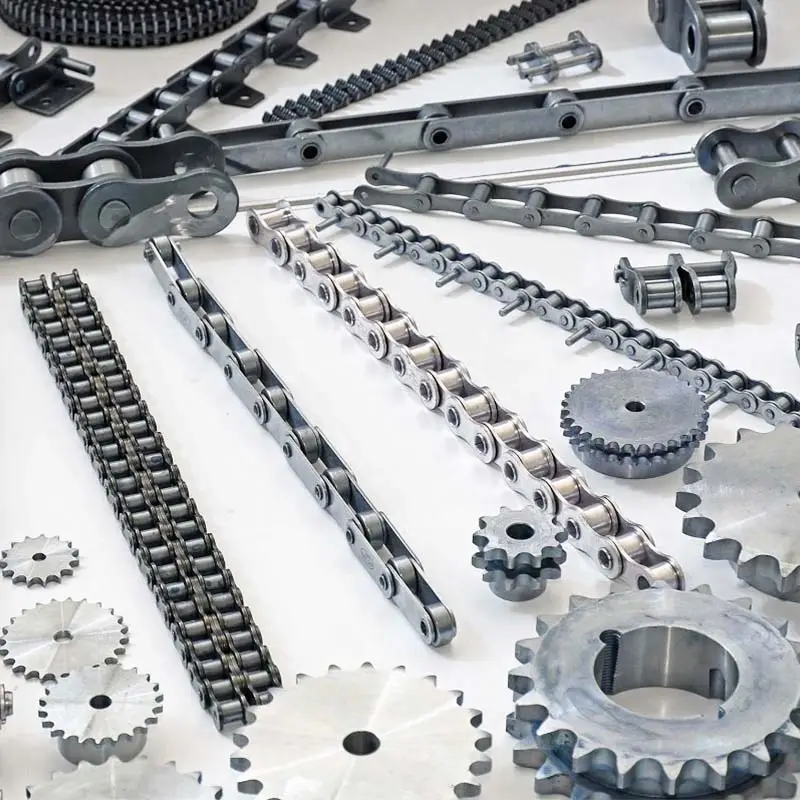 What are the noise and vibration characteristics of engineering chains?
Engineering chains, like other types of roller chains, can produce noise and vibrations during their operation. The noise and vibration characteristics of engineering chains depend on several factors:
Lubrication: Proper lubrication of the chain can help reduce friction between the chain's components, leading to smoother operation and lower noise levels.
Chain Condition: A well-maintained chain with proper tension and minimal wear is likely to produce less noise and vibration compared to a worn or damaged chain.
Alignment: Proper alignment of the sprockets and the chain is essential to minimize lateral forces, which can contribute to increased noise and vibration.
Load and Speed: Heavier loads and higher speeds can increase the dynamic forces within the chain, leading to more pronounced noise and vibration.
Environmental Factors: External factors, such as temperature, humidity, and contaminants, can influence the chain's noise and vibration characteristics.
Chain noise and vibration can be managed through various measures:
Chain Design: Some chains are designed with noise reduction features, such as special profile plates or noise-dampening materials.
Lubrication: Using high-quality and appropriate lubricants can help reduce friction and noise.
Tensioning: Properly tensioned chains experience less vibration and are less likely to produce noise.
Maintenance: Regular inspection and maintenance can identify and address any issues that may contribute to increased noise and vibration.
Isolation: In some applications, adding vibration isolators or dampeners can help reduce the transmission of noise and vibrations to surrounding structures.
It's important to consider the specific requirements of the application and consult with chain manufacturers or experts to select the most suitable engineering chain and implement noise and vibration mitigation strategies when necessary.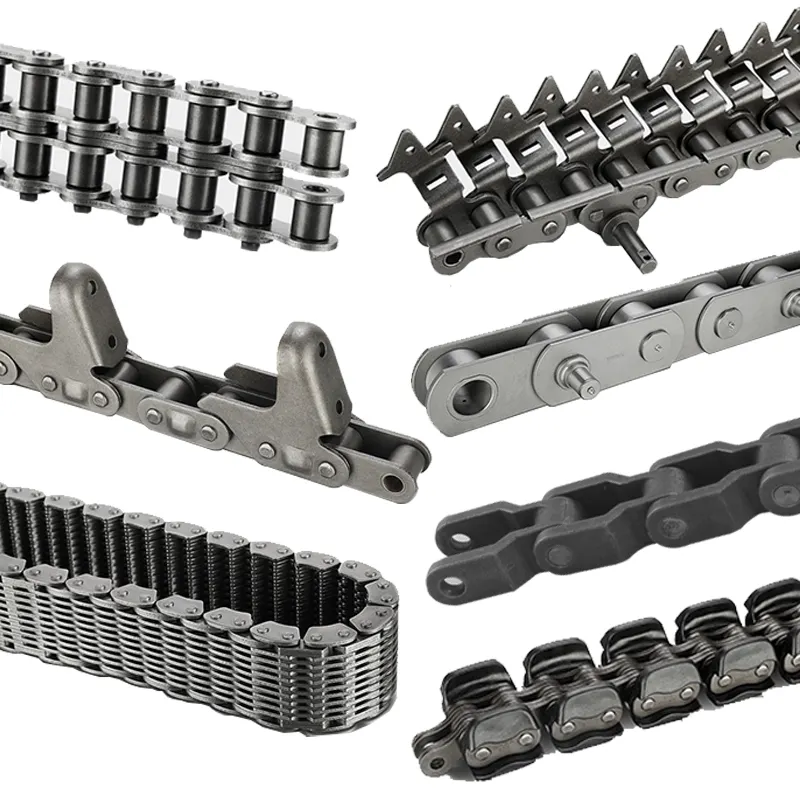 Can engineering chains be used in vertical lifting applications?
Yes, engineering chains can be used in vertical lifting applications, and they are commonly employed in various industries for this purpose. Vertical lifting applications require a reliable and robust power transmission solution, and engineering chains are well-suited to meet these demands.
1. High Load Capacity: Engineering chains are designed to handle heavy loads, making them suitable for vertical lifting applications where substantial weights need to be lifted and moved.
2. Safety Features: Many engineering chains used in lifting applications are designed with safety features, such as chain guides or guards, to prevent the chain from derailing or jumping off the sprockets during operation.
3. Controlled Motion: Engineering chains offer precise control over the lifting motion, which is crucial for vertical lifting tasks that require accuracy and stability.
4. Reliability: In vertical lifting applications, the chain must operate consistently and reliably to ensure the safety of workers and equipment. Engineering chains are known for their durability and long service life, making them a dependable choice for such critical tasks.
5. Customization: Engineering chains can be customized to fit specific vertical lifting applications. Different chain types, sizes, and attachments can be chosen to optimize performance and efficiency for a particular lifting task.
6. Lubrication: Proper lubrication is essential for engineering chains used in vertical lifting applications to minimize friction and wear, ensuring smooth and efficient operation.
7. Compliance: Depending on the industry and application, engineering chains may need to comply with specific safety standards and regulations, such as ISO or ANSI standards.
Overall, engineering chains are a reliable and versatile option for vertical lifting applications, providing the necessary strength, control, and safety required for lifting heavy loads with precision and efficiency.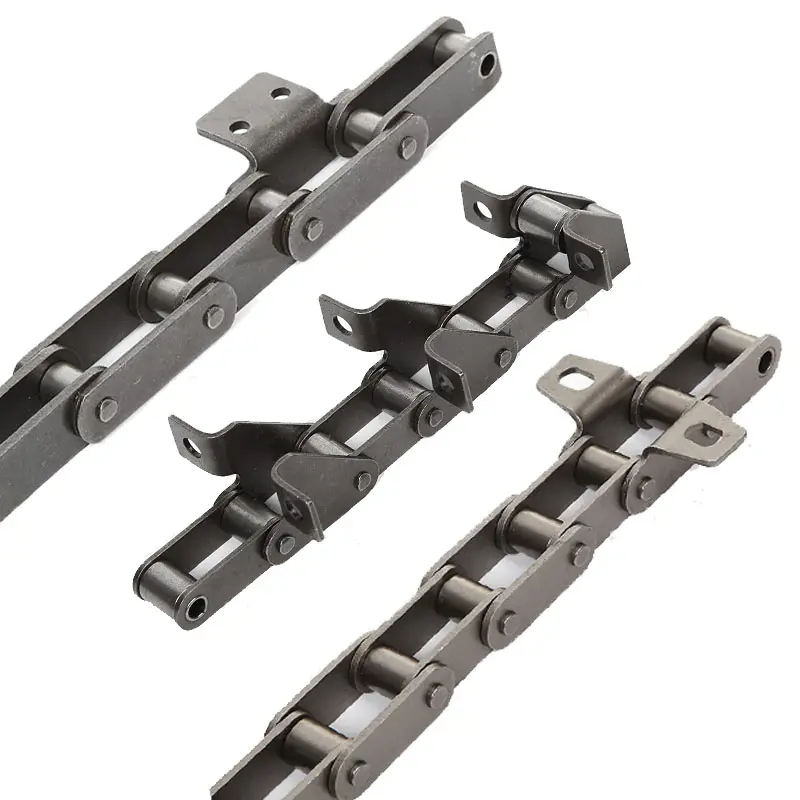 How do engineering chains handle shock loads and impact forces?
Engineering chains are designed to handle a range of loads, including shock loads and impact forces, encountered in various industrial applications. Their ability to withstand these forces depends on several factors:
1. Material Selection: High-quality engineering chains are often made from robust materials such as alloy steel or stainless steel. These materials provide excellent strength and durability, allowing the chain to handle shock loads without permanent deformation or failure.
2. Chain Design: The design of engineering chains plays a crucial role in their ability to handle shock loads. The chain's structure, such as the shape and size of its components, determines its load-bearing capacity and resistance to impact forces.
3. Heat Treatment: Some engineering chains undergo specific heat treatment processes to enhance their hardness and toughness. Heat-treated chains can better withstand shock loads and impact forces, making them suitable for demanding applications.
4. Fatigue Resistance: Engineering chains are designed to have good fatigue resistance, which means they can endure repeated loading cycles without failure. This property is essential for withstanding impact forces that occur intermittently in certain applications.
5. Proper Installation and Tensioning: Correct installation and appropriate tensioning of the chain are essential to ensure optimal performance under shock loads. Improper tensioning may lead to excessive stress on the chain and premature failure.
6. Chain Speed: The speed at which the chain operates can influence its ability to handle shock loads. High-speed operation may generate additional forces, so the chain must be rated to withstand these forces without exceeding its limits.
7. Regular Maintenance: Proper maintenance is crucial for extending the life of engineering chains subjected to shock loads and impact forces. Regular inspections, lubrication, and replacement of worn components are essential to keep the chain in optimal condition.
Overall, engineering chains are engineered to handle shock loads and impact forces in industrial environments. However, it is crucial to choose the right chain type, size, and material for the specific application and to follow proper installation and maintenance practices to ensure reliable and safe operation under varying load conditions.



editor by CX 2023-09-21