Product Description
Product Description
Product Parameters
Standard
GB, ISO, ANSI, DIN
Type
Standard A and standard B precision roller chain, conveyor chain;
special chain with accessories, welding chain, leaf chain and sprocket
ANSI chain No.
40,50,60,80,100,120,140,160,180,200,240;
C40,C50,C60,C80,C100,C120,C140,C160;
DIN/ISO chain No.
08A,10A,12A,16A,20A,24A,28A,32A,36A,40A,48A;
C08A,C10A,C12A,C16A,C20A,C24A,C28A,C32A;
Application
Food processing, pharmaceutical and chemical industries, electronics, machinery;
household appliances, automotive manufacturing, metallurgy, sewage treatment
Series
A series,B series
More Products
Advantage
Certifications
DETAILS ABOUT CHINAMFG CHAIN 
Exhibition
Workshop
Application
Packaging Details
Shipping
Contact Information
FAQ      
1. Are you manufacturer or trade Company?
We are a factory founded in 1997 with trade team for international service.
2. What terms of payment you usually use?
T/T 30% deposit and 70% against document, Western Union, L/C at sight
3. What is your lead time for your goods?
Normally 35 days after confirmed order. 30 days could be available in low season for some items (during May to July), and 45 days during new year and hot season ( Jan to March).
4. Samples
For customers who need sample confirmation before ordering, please bear in mind that the following policy will be adopted:
1) All samples are free of charge with the maximum value not exceeding USD 100.
2) The courier cost for the first-time sample sending will be charged for by the consignee. We will send the samples with freight to be collected. So please inform your account with FedEx, UPS, DHL or TNT so that we can proceed promptly.
3) The first-time courier cost will be totally deducted from the contract value of the trial cooperation.
4) OEM/ODM are both available.
| | |
| --- | --- |
| Usage: | Transmission Chain, Drag Chain, Conveyor Chain, Dedicated Special Chain |
| Material: | Stainless steel |
| Surface Treatment: | Polishing |
| Feature: | Heat Resistant |
| Chain Size: | 1/2"*11/128" |
| Structure: | Roller Chain |
Samples:

US$ 1/Meter

1 Meter(Min.Order)

|
Request Sample
Customization:

Available

|

Customized Request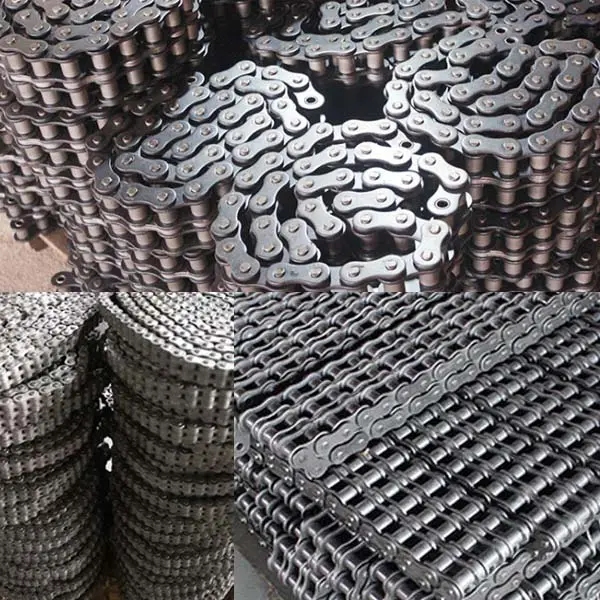 Can engineering chains be used for power transmission in mining equipment?
Yes, engineering chains are commonly used for power transmission in various mining equipment applications. Mining operations involve heavy-duty machinery that requires robust and reliable power transmission systems to handle the demanding conditions and loads. Engineering chains are well-suited for these challenging environments due to their strength, durability, and versatility.
In mining equipment, engineering chains are used in various applications, including:
Conveyors: Mining conveyors transport raw materials and ores over long distances, and engineering chains play a crucial role in driving these conveyors and ensuring smooth material flow.
Bucket Elevators: Bucket elevators are used to vertically lift and transfer materials, and engineering chains provide the power transmission required for their operation.
Crushers and Pulverizers: Engineering chains are used to drive crushers and pulverizers, which reduce the size of mined materials for further processing.
Draglines and Excavators: These large mining machines use engineering chains to power their movement and operation.
Stackers and Reclaimers: These machines stack and reclaim bulk materials in storage yards, and engineering chains facilitate their movement and positioning.
Engineering chains are preferred in mining applications because they can withstand heavy loads, shock loads, and harsh environmental conditions commonly found in mining operations. Additionally, engineering chains are available in various sizes, pitches, and configurations, making them adaptable to different mining equipment designs and requirements.
To ensure reliable performance, it is essential to select the appropriate type and size of engineering chain for each specific mining equipment application. Regular maintenance and proper lubrication are also critical to extend the chain's service life and minimize downtime in mining operations.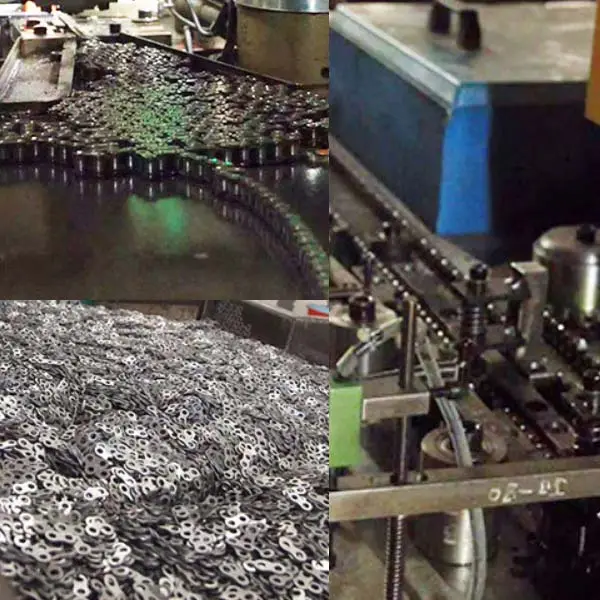 Can engineering chains be used in marine or underwater applications?
Yes, engineering chains can be used in marine or underwater applications under certain conditions. However, several factors need to be considered to ensure their reliable performance and longevity in such environments:
1. Corrosion Resistance: Marine and underwater environments expose chains to the risk of corrosion due to saltwater exposure. Therefore, it's crucial to select engineering chains made from corrosion-resistant materials such as stainless steel or special coatings to prevent rust and deterioration.
2. Sealing and Lubrication: Proper sealing and lubrication are essential to protect the chain's internal components from water ingress and corrosion. Sealed or encapsulated chain designs with suitable lubricants can help maintain smooth operation even in wet conditions.
3. Material Selection: The choice of materials for the chain and sprockets should consider not only corrosion resistance but also the ability to withstand marine environments' unique challenges, such as exposure to marine organisms, debris, and changing temperatures.
4. Load Capacity: Marine and underwater applications may involve heavy loads, so the engineering chain must be selected based on the specific load requirements to ensure safe and reliable operation.
5. Water Depth and Pressure: The depth of the underwater application and the resulting pressure can affect the chain's performance. Special considerations may be necessary for deep-sea applications to withstand higher pressures.
6. Environmental Regulations: Depending on the location, there may be specific environmental regulations regarding the materials used in marine applications to prevent pollution and protect marine life.
7. Maintenance and Inspection: Regular maintenance and inspection are critical for identifying and addressing any signs of wear, corrosion, or damage in the engineering chain. Timely maintenance can extend the chain's lifespan and ensure safe operation.
Overall, with proper material selection, sealing, lubrication, and maintenance, engineering chains can be used effectively in marine or underwater applications, providing reliable power transmission and motion control in these challenging environments.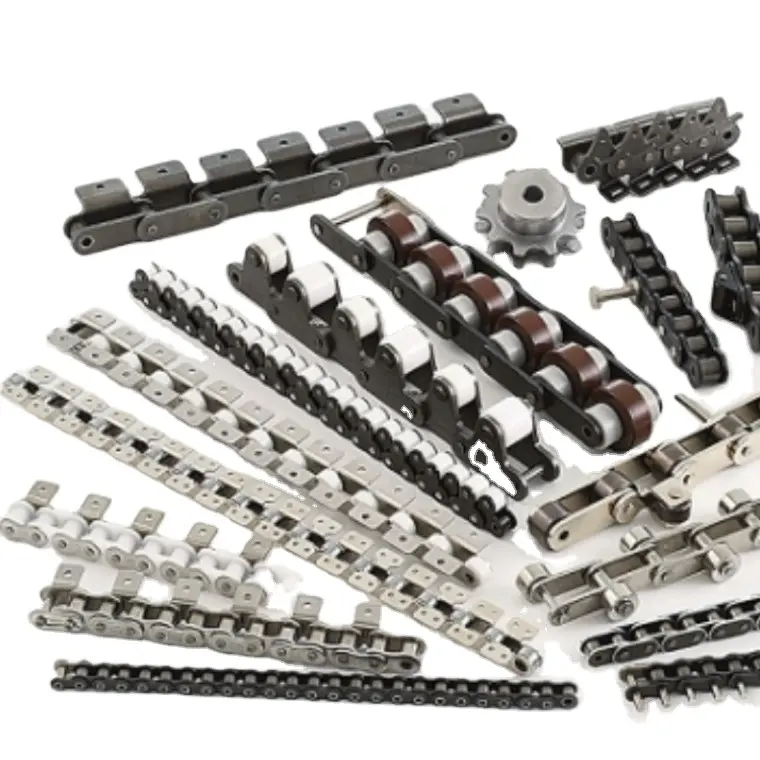 How do you select the right size and pitch for an engineering chain?
Choosing the correct size and pitch for an engineering chain is essential to ensure optimal performance, longevity, and safety in industrial applications. Here are the steps to guide you in selecting the right engineering chain size and pitch:
1. Identify the Application Requirements: Understand the specific requirements of the application where the engineering chain will be used. Consider factors such as the load to be carried, the speed of operation, the environmental conditions, and any special considerations like corrosion resistance or high-temperature requirements.
2. Determine the Chain Type: Engineering chains come in various types, such as roller chains, conveyor chains, drive chains, and specialty chains. Choose the chain type that best matches the intended application and the type of motion required.
3. Calculate the Chain Pitch: The chain pitch refers to the distance between each roller pin or attachment point on the chain. To calculate the chain pitch, measure the center-to-center distance of any three consecutive pins and divide it by two. Ensure that the calculated pitch matches the chain's specified pitch.
4. Calculate the Chain Length: Determine the required length of the engineering chain by considering the distance between the sprockets and any additional slack or tension needed for smooth operation. Ensure that the selected chain length is appropriate for the application and fits well without being overly tight or loose.
5. Check Load Capacity and Strength: Refer to the manufacturer's data or engineering chain catalog to determine the load capacity and strength of the selected chain. Ensure that the chain's load capacity exceeds the maximum loads expected in the application to prevent premature wear or failure.
6. Consider the Environmental Factors: Take into account any environmental factors that may affect the performance of the engineering chain, such as temperature, moisture, chemicals, or abrasive materials. Choose a chain material that can withstand the specific environmental conditions to ensure longevity.
7. Consult with Manufacturers or Suppliers: If you are uncertain about selecting the right engineering chain, do not hesitate to consult with chain manufacturers or suppliers. They can provide valuable insights and recommendations based on their expertise and knowledge of various applications.
By following these steps and carefully evaluating the application's requirements, you can select the appropriate size and pitch for an engineering chain, ensuring reliable and efficient operation in your specific industrial setting.



editor by CX 2023-09-25