Product Description
400 Class Pintle Chains
400 Class Pintle Chains with attachments
F-2 attachments/K-1 attachments/K-2 attachments
400 Class Pintle Chains are made of malleable iron or pearlitic malleable iron and jointed by pins.
Chain No. 442/ 445/452/455/462/477/488/4103/4124
400 Class Pintle Chains
We 24 hours service for you!
| | |
| --- | --- |
| Standard or Nonstandard: | Standard |
| Application: | Textile Machinery, Garment Machinery, Conveyer Equipment, Packaging Machinery, Electric Cars, Motorcycle, Food Machinery, Marine, Mining Equipment, Agricultural Machinery, Car |
| Surface Treatment: | Baking Paint |
| Structure: | Combined Chain |
| Material: | Alloy |
| Type: | Cranked Link Chain |
Samples:

US$ 15.71/Meter

1 Meter(Min.Order)

|
Request Sample
Customization:

Available

|

Customized Request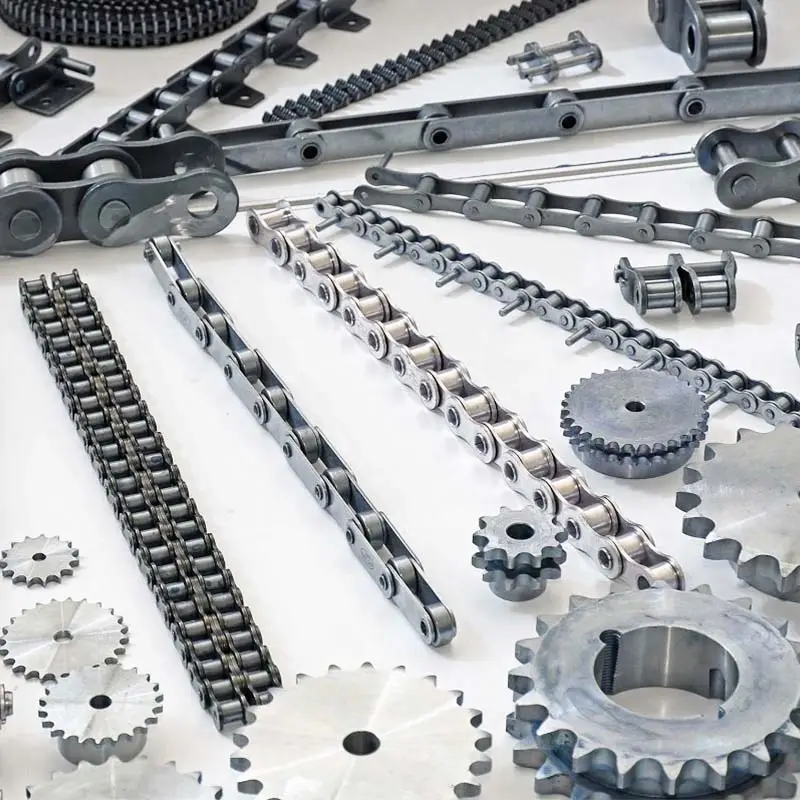 What are the signs of wear and when should an engineering chain be replaced?
Identifying signs of wear in an engineering chain is crucial for maintaining the system's reliability and preventing unexpected failures. Here are some common signs of wear in an engineering chain that indicate it may need replacement:
1. Elongation: Over time, chains can elongate due to wear on the pins and bushings. Measure the chain's pitch (center-to-center distance between pins) and compare it to the original pitch. If the elongation exceeds the manufacturer's recommended limit, it's time to replace the chain.
2. Chain Stretch: Chain stretch occurs when the chain has excessive play or slack when engaged with the sprockets. This can result from elongation and may lead to a loss of accuracy in the system's operation.
3. Increased Noise: Excessive wear can cause the chain to produce more noise during operation. If you notice a significant increase in chain noise, it may indicate wear or inadequate lubrication.
4. Chain Damage: Inspect the chain for signs of damage, such as bent or broken links, cracked plates, or damaged rollers. Damaged components compromise the chain's integrity and can lead to failure.
5. Rust and Corrosion: Chains used in corrosive environments may show signs of rust and corrosion. Corroded components can weaken the chain and reduce its load-carrying capacity.
6. Frequent Maintenance and Repairs: If you find yourself frequently performing maintenance and repairs on the chain, it may be an indication that it is nearing the end of its service life.
7. Chain Misalignment: Excessive wear can cause the chain to misalign with the sprockets, leading to uneven wear patterns on the chain components.
8. Loss of Tension: In applications where tension is crucial for proper chain engagement, a loss of tension could indicate wear or elongation.
9. Reduced Performance: If the system's performance, such as speed or accuracy, is noticeably reduced, it could be due to chain wear affecting the overall functionality.
10. Maintenance Records: Keep detailed records of the chain's maintenance and service life. Regularly inspect the chain and refer to maintenance records to determine if it has reached its recommended replacement interval.
When you observe any of these signs of wear, it's important to replace the engineering chain promptly. Continuing to use a worn or damaged chain can lead to unexpected failures, production downtime, and potential damage to other system components. Regular inspections, proper lubrication, and timely replacement will ensure the reliability and longevity of the engineering chain in various industrial applications.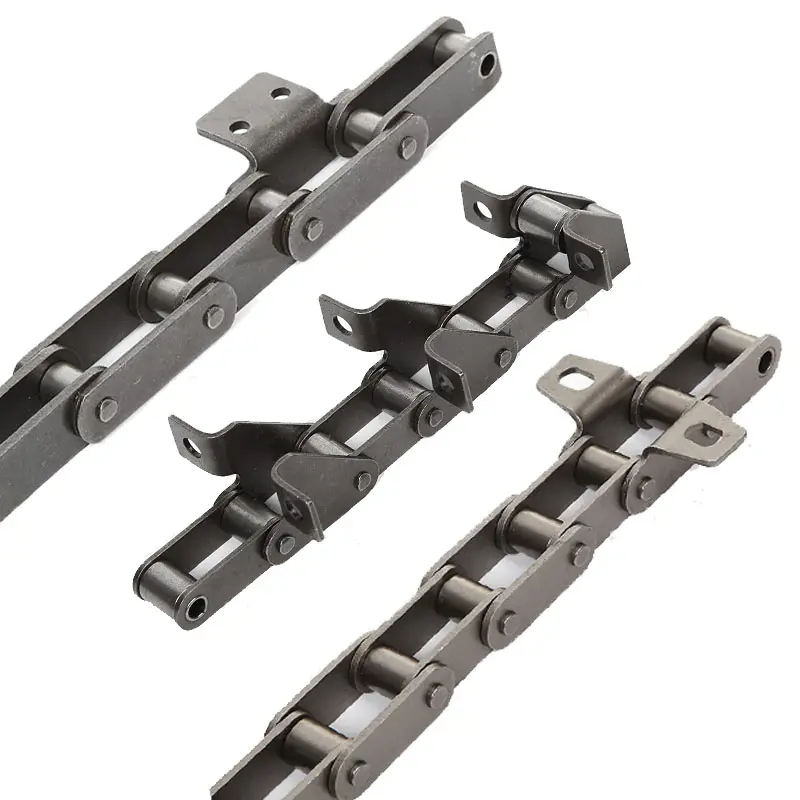 Can engineering chains be used for power transmission in conveyor systems?
Yes, engineering chains are commonly used for power transmission in conveyor systems. Conveyor systems are widely employed in various industries for material handling, and they require reliable and efficient power transmission methods to move heavy loads over long distances. Engineering chains are well-suited for these applications due to their robust construction, high load-carrying capacity, and versatility.
Conveyor systems often consist of a series of sprockets and a continuous loop of engineering chain that runs over these sprockets. The chain is driven by a motorized sprocket, and as it moves, it carries the conveyed material along the conveyor's length. The design of engineering chains ensures smooth engagement with the sprockets, enabling efficient power transmission and precise material handling.
Depending on the specific requirements of the conveyor system, various types of engineering chains can be used. For instance, for applications where cleanliness is crucial, stainless steel chains with self-lubricating properties may be employed. In environments with high corrosion potential, corrosion-resistant coatings on chain components can extend the chain's lifespan.
Furthermore, engineering chains can be customized to fit different conveyor configurations, allowing for the design of complex conveyor systems that suit specific production processes or spatial limitations.
In summary, engineering chains are an excellent choice for power transmission in conveyor systems due to their durability, load capacity, and adaptability. They ensure smooth and reliable operation, making them indispensable in material handling and conveyor applications across various industries.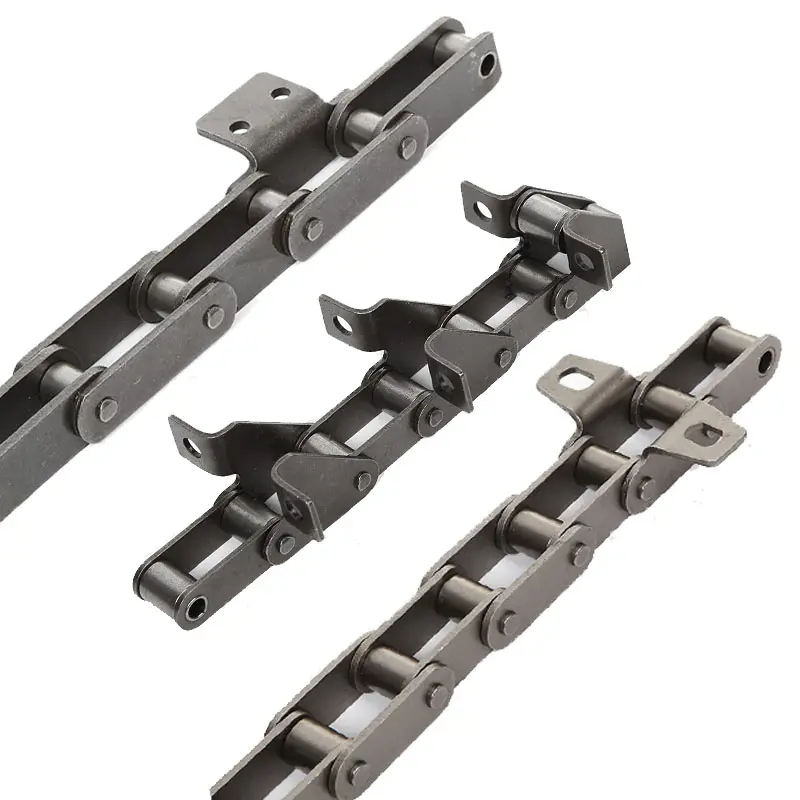 How do engineering chains handle shock loads and impact forces?
Engineering chains are designed to handle a range of loads, including shock loads and impact forces, encountered in various industrial applications. Their ability to withstand these forces depends on several factors:
1. Material Selection: High-quality engineering chains are often made from robust materials such as alloy steel or stainless steel. These materials provide excellent strength and durability, allowing the chain to handle shock loads without permanent deformation or failure.
2. Chain Design: The design of engineering chains plays a crucial role in their ability to handle shock loads. The chain's structure, such as the shape and size of its components, determines its load-bearing capacity and resistance to impact forces.
3. Heat Treatment: Some engineering chains undergo specific heat treatment processes to enhance their hardness and toughness. Heat-treated chains can better withstand shock loads and impact forces, making them suitable for demanding applications.
4. Fatigue Resistance: Engineering chains are designed to have good fatigue resistance, which means they can endure repeated loading cycles without failure. This property is essential for withstanding impact forces that occur intermittently in certain applications.
5. Proper Installation and Tensioning: Correct installation and appropriate tensioning of the chain are essential to ensure optimal performance under shock loads. Improper tensioning may lead to excessive stress on the chain and premature failure.
6. Chain Speed: The speed at which the chain operates can influence its ability to handle shock loads. High-speed operation may generate additional forces, so the chain must be rated to withstand these forces without exceeding its limits.
7. Regular Maintenance: Proper maintenance is crucial for extending the life of engineering chains subjected to shock loads and impact forces. Regular inspections, lubrication, and replacement of worn components are essential to keep the chain in optimal condition.
Overall, engineering chains are engineered to handle shock loads and impact forces in industrial environments. However, it is crucial to choose the right chain type, size, and material for the specific application and to follow proper installation and maintenance practices to ensure reliable and safe operation under varying load conditions.



editor by CX 2023-07-27