Product Description
Heavy Duty Engineering Chain Cranked-link Transmission Chains
Product Description
Heavy duty cranked link transmission chains
Heavy-duty cranked-link chain is famous for its high accuracy, resistance to wear and fatigue durability. its specific cranked-link joint structure is more suitable for the work environment with larger impact load and frequently changed intermittence. it mainly is used for large equipment and power transmission under heavy working conditions in mining, metallurgy, and engineering machinery industries.
Heavy duty cranked link chain supplies by CHINAMFG is manufactured from high quality special heat treated alloy steel. Due to it's quality, this heavy duty cranked link chain have a longer service life. They are offered with the facility of length tolerances and lateral clearances that helps it to operate over flame cut or cast tooth sprockets.
usage: chain drive applications involving extremely heavy loads or particularly adverse operating conditions.
Chain no.

Pitch(p)

Roller
Diameter

(D1 

Max)

Width
Between
Inner plate(B1 

Min)

Pin
Diameter(D2
Max)

Pin
Length

(L
Max)

Plate
depth

(H2)

Plate
thickness

(T)

Ultimate
Tensile
Strength

(Q
Min)

Average
Tensile
Strength

(Q0)

2571

63.50

31.75

38.1

15.90

90.70

47.80

7.90

250.0/56818

270.00

2512

77.90

41.28

39.6

19.08

103.40

60.50

9.70

340.0/77272

367.20

2814

88.90

44.45

38.1

22.25

117.60

60.50

12.70

471.0/15715

507.60

3315

103.45

45.24

49.3

23.85

134.90

63.50

14.20

550.0/125000

594.00

3618

114.30

57.15

52.3

27.97

141.20

79.20

14.20

760.0/172727

820.80

4571

127.00

63.50

69.9

31.78

168.10

91.90

15.70

987.0/224300

1069.20

4824

152.40

76.20

76.2

38.13

187.50

104.60

19.00

1600.0/363632

1700.00
Company Profile
The company has advanced manufacturing technology and relatively strong manufacturing force, and high-end precision testing instruments to ensure that every chain leaving the factory is qualified. The company mainly deals in: transmission chain, transmission chain, lifting chain, agricultural machinery chain, stainless steel chain, etc. Various non-standard chains are ordered separately. The company uses more than 600 kinds of non-standard molds. It can be customized according to drawings. We implement all-round management and control over product quality and service, and constantly improve customer satisfaction. The chain produced by the company enjoys a certain reputation in the world with its high quality, good reputation and high-quality service.
Related products
The chain types are divided into engineering chain, conveying chain, plate chain, transmission chain, escalator chain, parking equipment chain, agricultural chain, stainless steel chain, etc. There are different types of chains with different purposes, specifications, models and styles. 
Plate chain type Plate chain is usually used to lift goods. For example, forklift, lifting machinery and equipment. Plate chain has no rollers, but chain plates are connected with each other. It is a kind of chain used for loading. Different types of plate chains have different functions,
Stainless steel chain Stainless steel chain types include standard stainless steel chain, stainless steel hollow pin chain, stainless steel chain used for environmental protection equipment, etc,
 
Type of transmission chain Many types of transmission chains are power transmission chains, such as precision roller chains, double pitch roller chains, high-strength short pitch precision roller chains, petroleum chains, pumping unit chains, self-lubricating roller chains, side bending (turning machine) chains, corrosion resistant chains, etc
There are many types of escalator chains, including escalator step chains, heavy-duty high gradient escalator step chains, travelator chains, and escalator chains of different specifications and models,

 

The engineering chain includes many kinds of chains, such as cement bucket elevators, environmental protection equipment, pavers, trenchers, welding equipment, mining, power plant dust removal and other equipment.
 
Agricultural machinery chain Agricultural machinery chain is a chain developed and produced according to the characteristics of different crops, including rice harvester chain, GS38 combine chain, corn harvester chain, citrus straw harvester chain, soybean harvester chain, peanut harvesting chain, garlic sowing chain, and potato planter chain.
There are many types of conveying chains, such as wood conveying chain, double speed chain, RF conveying chain, sharp tooth chain, sugar chain, brown oil chain, F chain, metric conveying chain, top roller conveying chain, grain scraper, hollow pin, suspension conveying, etc. The conveying chain is a power chain for transporting goods.
Parking equipment chain This type of chain includes roller chains for parking equipment, chains for vertical circulation parking equipment, and parking equipment chains that can be developed according to demand.
 
We not only produce chains and transmissions, including gear boxes, sprockets, gears, racks, couplings and other products, but also supply them to meet your one-stop purchase. Welcome to consult us
Packaging & Shipping
Certifications
| | |
| --- | --- |
| Usage: | Transmission Chain, Drag Chain, Conveyor Chain, Dedicated Special Chain |
| Material: | Stainless steel |
| Surface Treatment: | Oil Blooming |
| Feature: | Oil Resistant |
| Chain Size: | 1/2"*3/32" |
| Structure: | Roller Chain |
Samples:

US$ 9999/Piece

1 Piece(Min.Order)

|
Request Sample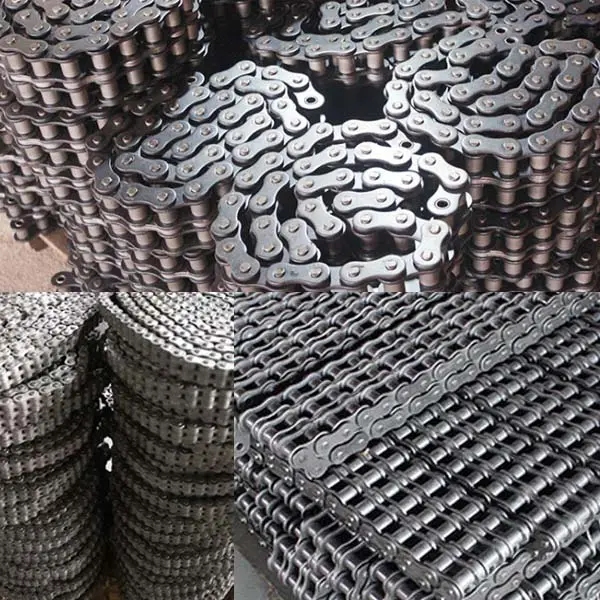 Can engineering chains be repaired or must they be completely replaced?
Unlike some other components, engineering chains are generally not designed to be repaired. Once an engineering chain shows signs of wear, damage, or elongation, it is recommended to replace the entire chain rather than attempting repairs. Here are the reasons why engineering chains are typically replaced instead of repaired:
1. Safety Concerns: Engineering chains are critical components in industrial applications, often responsible for transmitting high loads and operating at high speeds. If a chain fails due to a repair that was not performed correctly, it can lead to serious safety hazards and potential accidents.
2. Complex Design: Engineering chains have a complex design with various components, including pins, rollers, bushings, and plates. Repairing these components and restoring them to their original specifications is difficult and may not guarantee the same level of performance and reliability as a new chain.
3. Cost-Effectiveness: In many cases, repairing an engineering chain can be more costly and time-consuming than simply replacing it. Additionally, a repaired chain may have a shorter service life, leading to more frequent replacements in the future.
4. System Integrity: Engineering chains work as part of a larger system, engaging with sprockets and other components. If a repaired chain does not fit perfectly within the system, it can cause misalignment, premature wear, and reduced performance.
5. Manufacturer Recommendations: Chain manufacturers usually recommend replacing the entire chain when it shows signs of wear or elongation. Following these recommendations ensures that the system operates as intended and maintains its reliability.
Considering the critical role of engineering chains in various industrial applications, it is best to prioritize safety, reliability, and system performance by replacing worn or damaged chains with new ones. Regular maintenance, proper lubrication, and timely replacements will help extend the service life of the engineering chains and contribute to the overall efficiency of the machinery and equipment.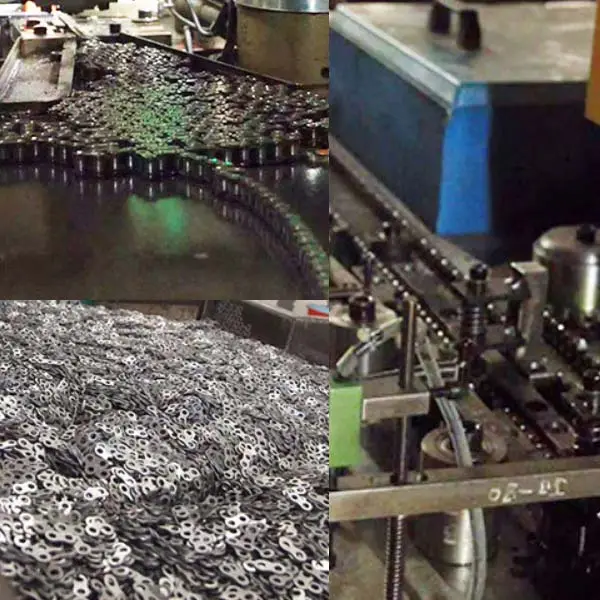 How do engineering chains handle side loads and lateral forces?
Engineering chains are designed to handle side loads and lateral forces effectively, making them suitable for applications where such forces may be present. The ability of engineering chains to handle side loads and lateral forces is primarily influenced by their construction and material properties.
Key factors contributing to the handling of side loads and lateral forces by engineering chains include:
Chain Design: Engineering chains are often constructed with solid bushings and rollers that provide smooth articulation between the chain links. This design minimizes friction and wear, allowing the chain to better accommodate lateral movements.
Material Selection: High-quality engineering chains are typically made from durable materials, such as alloy steel, that offer excellent tensile strength and resistance to fatigue. These material properties enable the chain to withstand lateral forces without deformation or failure.
Clearances: The clearances between the chain components and the sprocket teeth are carefully engineered to ensure that the chain can flex and adjust to lateral forces without jamming or binding. Proper clearances also help reduce wear and noise during operation.
Guidance Systems: In certain applications, additional guidance systems may be used to support the chain and maintain its alignment, especially when dealing with significant side loads. These guidance systems can include wear strips, guide rails, or other forms of lateral support.
It's important to note that while engineering chains can handle some degree of side loads and lateral forces, excessive or prolonged lateral forces can lead to premature wear and reduced chain life. Therefore, it is crucial to select the appropriate chain size and design for the specific application and operating conditions to ensure optimal performance and longevity.
Regular maintenance, including proper lubrication and periodic inspection, is also essential to monitor chain wear and detect any signs of damage that may result from side loads or other external forces. By following proper maintenance practices, the engineering chain's ability to handle side loads and lateral forces can be maximized, ensuring reliable and efficient power transmission in various industrial applications.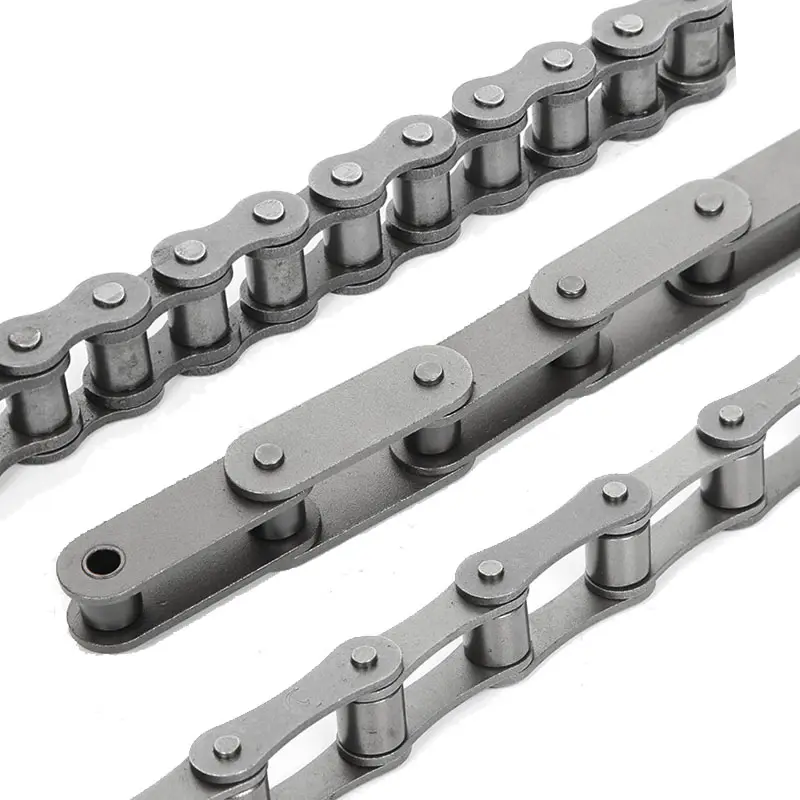 Can engineering chains be used in high-speed applications?
Yes, engineering chains can be used in high-speed applications, but their suitability depends on various factors. While some engineering chains are designed to handle high-speed operation, others may not be suitable for such applications. Here are some considerations:
1. Chain Type: Different types of engineering chains have varying capabilities when it comes to high-speed operation. For example, roller chains are commonly used in industrial applications and can handle moderate to high speeds efficiently. On the other hand, conveyor chains or specialty chains may have limitations on speed due to their design and intended use.
2. Manufacturer Specifications: Check the manufacturer's specifications and recommendations for the engineering chain you plan to use. Manufacturers often provide maximum allowable speeds for their chains based on factors such as chain size, material, and construction.
3. Lubrication and Maintenance: Proper lubrication and maintenance are critical for high-speed applications. Adequate lubrication reduces friction and wear, allowing the chain to operate smoothly at higher speeds. Regular maintenance ensures that the chain remains in good condition and minimizes the risk of unexpected failures.
4. Load and Tension: High-speed applications can place additional loads and tension on the engineering chain. It is essential to ensure that the chain can handle the increased loads and tension without stretching excessively or experiencing premature wear.
5. Environmental Conditions: Consider the environmental factors that may affect the chain's performance at high speeds. Temperature, humidity, and the presence of contaminants can impact the chain's wear and durability.
6. Safety Considerations: High-speed applications require careful consideration of safety measures. Ensure that all safety guidelines and regulations are followed to prevent accidents or injuries resulting from chain failure.
In summary, engineering chains can be used in high-speed applications, but it is essential to select the appropriate chain type and ensure proper maintenance and lubrication. Consulting with chain manufacturers or experts can help you determine the most suitable engineering chain for your specific high-speed application, ensuring safe and reliable operation.



editor by CX 2023-10-12