Product Description
Engineering Industrial Agricultural Machinery Heavy Duty Stainless Steel Chain
 
Product Description

1. Material: Alloy steel & Stainless steel
2. Surface treatment: Shot peening / Zinc-plated / Nickel-plated / Dacromet-plated
3. Characteristic: Chain plate hole finally passed ball extrusion to ensure maximum fatigue resistance, parts of shot peening treatment makes the chain and the sleeve has a higher fatigue strength.
 
Materials Available 
1. Stainless Steel: SS304, SS316, etc
2. Alloy Steel: 45Mn, 42CrMo, etc
3. OEM according to your request
Surface Treatment
Shot peening, Polishing, Oxygenation, Blackening, Zinc-plated, Nickel-plated, Anodized, etc.
Characteristic
Fire Resistant, Oil Resistant, Heat Resistant
Application
Agricultural machine
Design criterion
ISO DIN ANSI & Customer's Drawing
Size
Customer's Drawing & ISO standard 
Package
Wooden Case / Container and pallet, or made-to-order
Certificate
ISO9001: 2008 
Advantage
First quality, best service, competitive price, fast delivery
Delivery Time
20 days for samples. 45 days for official order.
Detailed Photos

View more products,please click here…

 
Company Profile
| | |
| --- | --- |
| Material: | Alloy/Carbon Steel |
| Sample: | for Free |
| Transport Package: | Plastic Bag+Carton Box+Plywood Case |
| Specification: | S55K1, S62A2K1 |
| Trademark: | made-to-order |
| Origin: | China |
Samples:

US$ 0/Meter

1 Meter(Min.Order)

|
Request Sample
Customization:

Available

|

Customized Request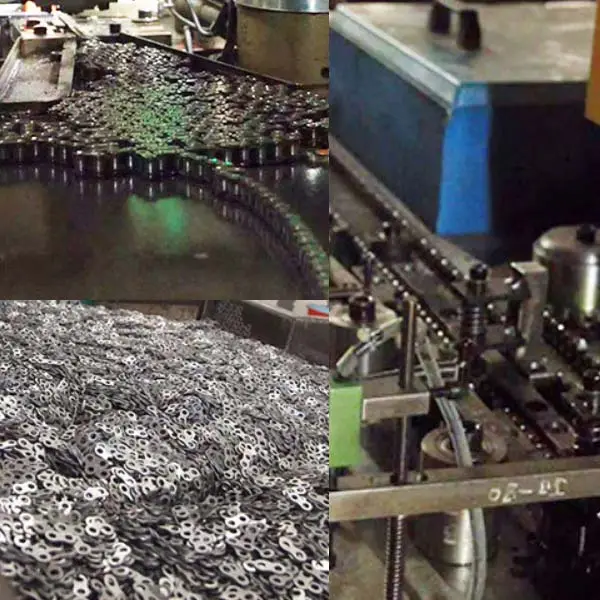 How do engineering chains handle misalignment between sprockets?
Engineering chains are designed to handle some degree of misalignment between sprockets. Misalignment can occur due to various factors such as improper installation, wear and elongation of the chain, or inaccuracies in the machinery. While some misalignment is inevitable in many industrial applications, excessive misalignment should be avoided to ensure optimal chain performance and longevity.
Here's how engineering chains handle misalignment:
Flexible Construction: Engineering chains are constructed with flexible components such as pins, rollers, and bushings. This design allows the chain to adapt to minor misalignments without putting excessive stress on the chain or sprockets.
Articulating Joints: The articulating joints in the chain allow it to articulate smoothly around the sprockets, accommodating minor misalignment during the rotation. This helps reduce wear on the chain and sprockets.
Tolerance for Misalignment: Manufacturers provide specifications for the allowable misalignment between sprockets. Engineering chains are designed to handle a certain level of misalignment within these tolerances without significantly affecting their performance.
Proper Installation: Correct installation of the engineering chain is crucial to minimizing misalignment issues. Ensuring proper tension, alignment, and center-to-center distance between sprockets can help reduce misalignment and prolong chain life.
Regular Maintenance: Regular maintenance, including chain inspection and lubrication, can help identify and address misalignment issues early on. Promptly correcting misalignment can prevent further damage and ensure efficient chain operation.
Alignment Devices: In some cases, alignment devices or tools may be used during installation to ensure accurate alignment between the sprockets. These devices can help improve chain performance and reduce wear caused by misalignment.
It is essential to follow the manufacturer's guidelines for chain installation, maintenance, and alignment to optimize the performance and service life of engineering chains. Addressing misalignment issues promptly and keeping the chain in proper working condition will contribute to the overall reliability and efficiency of the machinery or equipment in which the chain is used.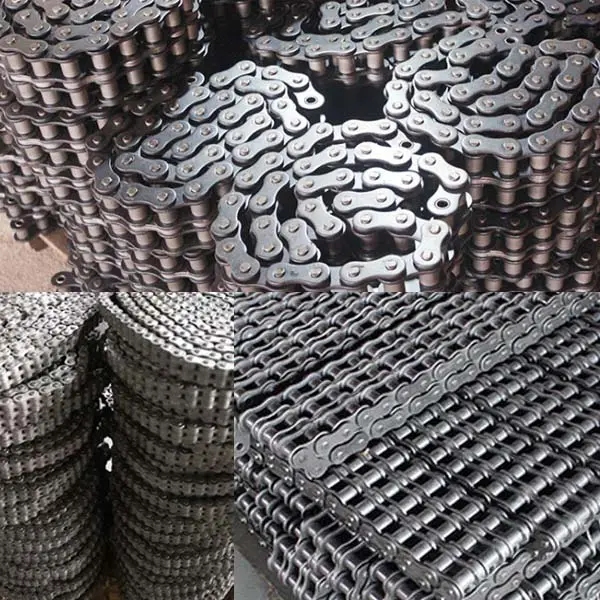 How do engineering chains handle reverse motion or anti-reverse requirements?
Engineering chains are designed to handle reverse motion or anti-reverse requirements in certain applications. This capability is essential in situations where the load or the machinery needs to move back and forth. Here's how engineering chains achieve this:
1. Tooth Shape: Many engineering chains, such as roller chains or silent chains, feature a specific tooth shape on the sprockets. The tooth profile is designed to engage the chain rollers or links in one direction, allowing smooth motion, while preventing engagement in the reverse direction, effectively acting as an anti-reverse mechanism.
2. One-Way Clutches: Some engineering chain applications may incorporate one-way clutches or overrunning clutches. These devices allow the chain and sprockets to engage and transmit power in one direction, while freewheeling or disengaging in the opposite direction, preventing reverse motion.
3. Ratcheting Mechanisms: In certain engineering chain systems, ratcheting mechanisms are employed to allow forward motion and prevent backward movement. These mechanisms consist of pawls and teeth that engage in one direction and disengage in the reverse direction, effectively providing an anti-reverse function.
4. Backstop Clutches: Backstop clutches are used to prevent reverse motion in specific engineering chain applications. These clutches allow the chain to engage and transmit power in one direction, while locking and preventing motion in the reverse direction.
5. Tensioning Devices: Proper tensioning of the engineering chain can also play a role in preventing reverse motion. Adequate tension helps keep the chain engaged with the sprockets in the desired direction, reducing the risk of slipping or backdriving.
6. Design and Orientation: Engineers can design the system in a way that naturally discourages reverse motion. For example, the layout of the chain path and the arrangement of sprockets can make it less likely for the chain to move in the opposite direction.
By using these methods and incorporating suitable components, engineering chains can effectively handle reverse motion or anti-reverse requirements, ensuring the safe and reliable operation of machinery in applications where back-and-forth motion is necessary.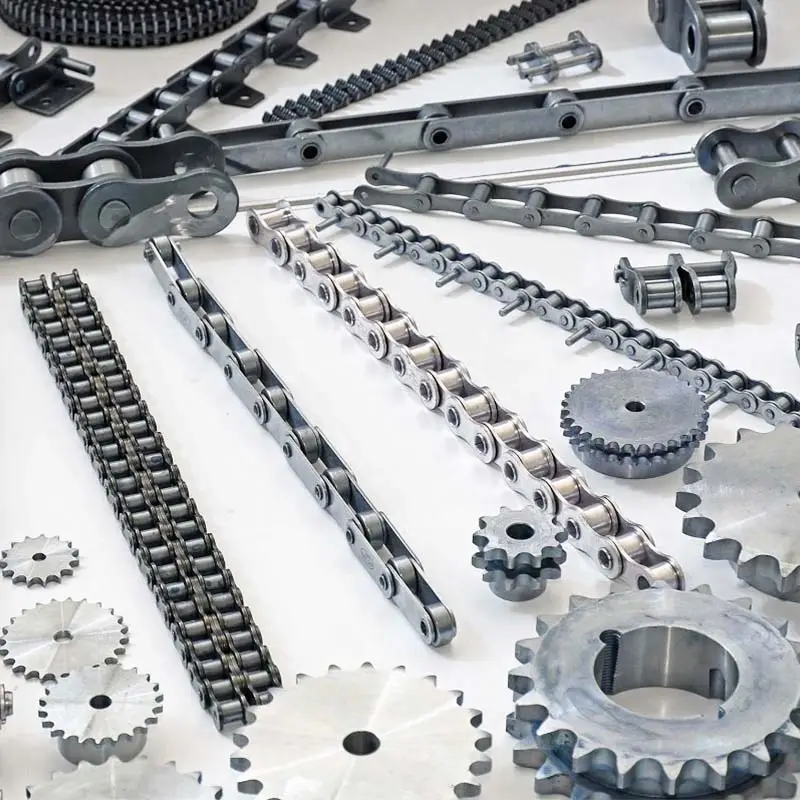 What are the different types of engineering chains available in the market?
Engineering chains come in various types, each designed to meet specific industrial needs and operating conditions. Here are some of the common types of engineering chains available in the market:
Roller Chains: Roller chains are the most common type of engineering chain and consist of cylindrical rollers that engage with the sprocket teeth for smooth power transmission. They are widely used in industries like manufacturing, agriculture, and automotive.
Drag Chains: Drag chains, also known as conveyor chains or slat chains, have flat, interlocking plates connected together. They are used in conveyor systems for material handling applications, especially in heavy-duty and abrasive environments.
Hollow Pin Chains: Hollow pin chains feature hollow pins that allow for the insertion of cross rods or attachments, making them versatile for handling irregularly shaped loads or for use as a conveyor in specific industries.
Double Pitch Chains: Double pitch chains have larger pitch distances between the links, resulting in lighter weight and lower cost. They are commonly used in low-speed and light-load applications.
Leaf Chains: Leaf chains, also known as forklift chains, are used in lifting applications, such as forklift trucks and other material handling equipment.
Side Bow Chains: Side bow chains have links with a curved or bent shape, allowing them to flex and bend laterally, making them suitable for curved or circular conveyor applications.
Apron Chains: Apron chains are used in apron conveyors, typically found in the mining and cement industries, for transporting heavy and abrasive materials.
Specialty Chains: There are various specialty chains available for specific industries and applications, such as escalator chains, agricultural chains, bottle conveyor chains, and more.
Each type of engineering chain has its own unique design and features to cater to specific requirements. The choice of chain type depends on factors like load capacity, speed, environmental conditions, and the application's needs. It's essential to select the appropriate chain type and ensure proper maintenance to achieve optimal performance and longevity in industrial operations.



editor by CX 2023-07-31